According to local news reports, EatStreet, a Madison, Wisconsin-based third-party restaurant delivery provider, is reportedly edging toward bankruptcy or liquidation in the wake of a $1.2 million settlement of a lawsuit brought by workers.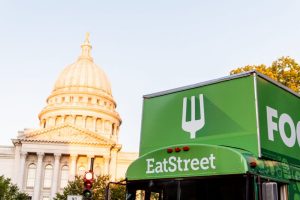 After several years of consolidation, where local delivery providers were absorbed by larger companies, EatStreet was one of the largest regional meal delivery providers in the country.
Started in a dorm room 12 years ago, EatStreet raked in approximately $50 million in investment funds throughout its history. Those cash infusions helped the company expand to four states and 25 delivery markets across the Midwest.
With W-2 drivers, rather than independent contractors, EatStreet felt its model was finding success in the shadows of the industry's giants at the dawn of the pandemic.
According to various reports, EatStreet's current troubles result from a years-long class action lawsuit brought by the company's drivers who claimed that the company violated federal Fair Labor Standards Act and Wisconsin state wage laws regarding tips used to offset the required minimum wage.
Madison's Capital Times, EatStreet agreed to settle the case for $1.24 million, which workers' attorneys claimed accounted for just 27 percent of the $4.54 million the workers attempted to recover.
"Unfortunately, over the last three months, EatStreet's financial circumstances have deteriorated rapidly due to multiple factors," wrote EatStreet attorneys Paul E. Benson, Benjamin T. Johnson and Emi M. Passini of Chicago law firm Michael Best & Friedrich.
The company is reportedly looking for buyers or new investors, but has been unsuccessful thus far.