DoorDash can now be used to help customers return retail packages through major carriers including UPS, FedEx and USPS. Just in time for the post-holiday returns rush, Dashers can collect packages at home and drop them off at nearby shipping facilities, easing an unloved activity that's only increased with the ongoing growth of ecommerce.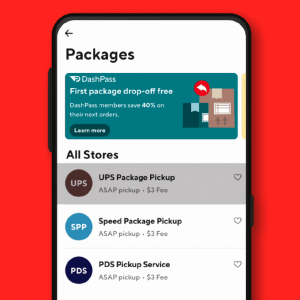 Billed Package Pickup on DoorDash, the new service is intended to let customers return packages without ever having to leave their homes.
To use Package Pickup, select the Packages hub on the top of the DoorDash homepage and select a carrier that corresponds to the package(s) you're sending. Alternatively, you can type "package" into the search bar.
Customers are allowed to return five total packages per delivery, and just need to attach a prepaid shipping label or, if you have a shipping QR code, you can send that directly to your Dasher in the app, no printer or box required for the item.
Once a request for package pickup has been made, a Dasher will be offered and immediately assigned to pick up your package as soon as possible. After collection, customers will receive a confirmation photo after dropping off the package to the designated shipping store.
The cost is $5 or $3 for DashPass members. To launch the new service, DoorDash customers can get their first package pickup for free in January.
"We are excited to introduce Package Pickup as a seamless and efficient offering for those looking to make returns during the busy post-holiday season and throughout the year," said Gagan Gupta, product manager at DoorDash. "The extensibility of our platform allows us to power all local commerce and local delivery needs, with this newest offering enabling us to meet time-starved shoppers wherever they are."