Portillo's CEO Michael Osanloo says his fast-casual brand is sitting pretty in a tenuous economy thanks to a three-part strategy exploiting the efficiency of multi-lane drive-thrus, luring "hero dads" inside the restaurants and doubling down on its most concentrated markets—especially in the south.
With more than 70 restaurants up and running—and often wildly busy during the lunch daypart—the Chicago-based street food brand plans to open nine additional locations in 2023. Of those new stores, the majority will be in southern, Sun Belt states where built-in population growth provides what Osanloo called the ultimate tailwind for expansion.
"I'm an inherently lazy guy and I want the lowest hanging fruit" Osanloo said, sounding more competitive than slothful. "For a restaurant business opening in Florida, Texas and Arizona, you go into it knowing you've got three-plus percent population growth as a tailwind … I wake up in the morning and I get a 10-comp just for showing up!"
Those growth numbers can spike even higher in the frothiest high-growth cities, like Gilbert, Arizona, just outside of Phoenix, where Osanloo said housing data suggests 12 percent population spurt over the next five years.
While growing cities make sense on a sales-growth basis, the CEO said attracting employees is also easier in markets that are growing, rather than stagnating like many urban centers in the brand's Midwestern home turf.
A recent report from the Kenan Institute of Private Enterprise showed that all but two of the 10 fastest growing U.S. cities are located in the south or intermountain western states.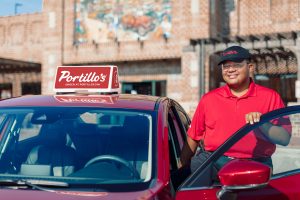 As one data point, a Facebook page for a Dallas-Fort Worth location that hadn't yet opened garnered tens of thousands of followers before opening the doors. During its soft opening this January, that excitement translated to $400,000 in sales in the first week. That same location raked in a bubbly $50,000 on its official opening day.
"I feel really good about what our future potential is in Dallas-Fort Worth, in Houston," Osanloo added. "I'm not trying to avoid any place, it's the presence of positives—that's what appeals to us."
He also said the company has taken an especially precise approach to menu changes, noting, "We don't play games with 'shrinkflation,' we're not taking fries out of the fry basket … Any time we touch our menu items, we're increasing the quality."
Throughout the peak of COVID, Portillo's took 80-100 SKUs out of the business, but added more salads and a better chicken sandwich to cancel the dreaded veto vote.
A canceled vegetarian offering, a portobello mushroom sandwich, was especially complicated for the back-of-the-house staff, which Osanloo said the brand swapped with a Garden Dog that provides "better margins, a better ring, and it wins on every count—that's the kind of innovation that we like."
Delivery in the drive-thru
In recent years, Portillo's has been grabbing market share from casual-dining restaurants, especially at the lower end of the spectrum. Better-burger brands have reportedly proven to be especially prime sources for migrating customers.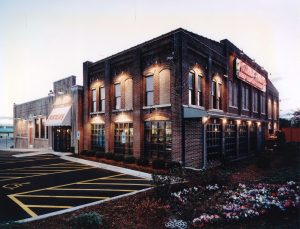 For Portillo's first-timers, Osanloo hopes their first experience is inside the restaurants, some of which feature neon lights wrapping the dining room, "cool, funky signs," and artwork like massive guitars, vintage bikes or cars suspended from the ceiling.
"You feel good about yourself as a dad because your kids are having a great experience, and you also feel like you're being really thoughtful and pragmatic about how much money you're spending," Osanloo said. "Our value proposition is such that you can go to a beautiful rest, make your kids super happy, look like a hero dad, have a great meal and still come out of there [without] having broken the bank."
Detailing its strategy on pricing at the recent ICR Conference, CFO Michelle Hook said this is a particular source of strength in the coming years. Citing what she called "an abundant meal at a very sharp price point," Hook said the average customer is spending $9.75 per person at its locations, which undercuts many fast-casuals and even some quick-service brands.
After three separate "pricing actions" that raised tickets approximately 8 percent last year, the brand feels surprisingly well positioned after a year with double-digit inflation in both commodities and labor. Hook said they planned to increase prices another two percent this month, leaving the door open to additional actions later this year.
Osanloo underscored the point, adding that pricing "has been well accepted by the guest" leaving his team to feel like they're sitting on a reserve of pricing power however this year's economy shakes out.
Multi-lane drive-thrus are the best possible expression of the brand's off-premises offering, and Osanloo said this channel is the freshest and fastest way of getting your food, but also the lowest cost for customers predisposed to pickup or delivery.
"If you want to do third-party delivery, you see a very different ticket [price], so I think drive-thru is sort of a phenomenal capability to have, and we have a ton of capacity," he added.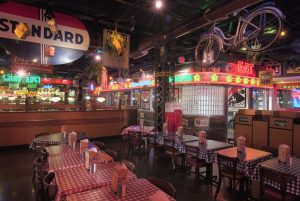 Portillo's locations with three individual lanes have "almost limitless capacity," with roughly six-minute ticket times aided by an intense staff presence outside, expediting the drive-thru experience. That hands-on approach can identify small orders deep within the line, with staffers delivering their orders and getting them out of the line faster than other drive-thru restaurants.
So far, Chicago is the brand's only market with a ghost kitchen location. Osanloo said he's open to a "fortressing" strategy where a delivery-only location can take catering and delivery pressure off of existing stores, which could even be employed in future suburban markets.
Drive-thru-only locations are yet another permutation, and such a location in Joliet, IL, has shown positive results—but offers no possibility for that in-store experience.
Fifty percent of Portillo's sales come through the drive-thru, with 35 percent coming from in-store transactions. That leaves 15 percent for catering and third-party delivery, with the CEO noting the company's long-term interests are "inherently" misaligned with that of large-scale delivery providers.
Stressing that this point of view is no different than what he says to the DoorDashes and Ubers of the world, Osanloo said the company tries to be especially careful in this relationship with an eye toward the long haul.
Portillo's conducts its own deliveries for orders larger than $100, with smaller catering orders providing a big lift across the system.
"I don't want my investors to suffer," he added. "We price [delivery orders] in a way so that we're margin neutral and only third-party charges are getting passed along, and I'm surprised it's still growing as much as it is."