As offices slowly repopulate on the back side of this pandemic, Foodsby has reformatted its commission structure with an eye on fairness—both for its restaurant partners and its own bottom line. After dropping commissions to 3.5 percent during the early days of COVID, the workplace-focused meal provider is going public with its reinvention in hopes of attracting restaurants put off by the high fees of third-party delivery and catering marketplaces.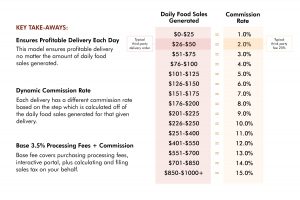 For Minneapolis-based Foodsby, which had entered many of the largest U.S. cities at the dawn of 2020, rebuilding its business in 2021 rests on a significantly reformulated rate structure. Designed to ensure that every meal its restaurants self delivers is profitable, its new commissions go as low as 1 percent for the smallest delivery orders—below $25—and increases to a maximum take rate of 15 percent for those above $850.
Unlike third-party delivery providers like DoorDash and Grubhub, which use their fleet of independent contractors to ferry meals to their final destinations, and catering providers that focus on larger bulk orders, Foodsby is more of a marketplace primarily focused on suburban office parks.
By working directly with large employers and building managers, Foodsby customers get a choice of several different restaurants they can pre-order from on any given day. Meals arrive at designated racks and at predetermined times for a contactless option that is often less expensive for both restaurants and consumers. Foodsby restaurant partners deliver the meals themselves, and the orders typically allow restaurants to make and package orders outside of peak times, like the lunch rush.

For a typical third-party meal delivery order size tends to be between $26 and $50, Foodsby would only charge 2 percent, and President Alex Ware asserts that this reshaped model is the result of an extended internal debate and collaboration with its restaurant partners to ensure that all-sizes of delivery orders are profitable.
"We think the time is right to bring something like this to the marketplace for everyone's sake," Ware said.
Beyond those entry-level commissions—which Foodsby asserts is "the end of the spectrum nobody wants to play in"—take rates increase in $25 increments. That means restaurants are charged 3 percent on orders between $51 and $75; 4 percent for orders between $76 and $100, up to $225, which is 9 percent. From there, commissions increase by another percent at $150 increments. Any order larger than $850 will trigger a 15-percent commission rate.
Currently, most Foodsby orders are in the $100 to $150 range, which would cost restaurants 6 or 7 percent. Restaurants that do multiple deliveries, or routes in Foodsby speak, per day will have different commission rates for each bulk delivery—and the new rates go into effect sometime in February.
"We're showing that we're a partner in the business in the community," he added. "We're seeing companies wanting to partner with us because of how we're structuring rates and being supportive of the restaurant community, versus tapping them with 30 percent fees on a $30 delivery."
Previously the CFO and executive vice president at Buffalo Wild Wings, Ware said his restaurant finance experience helped him and his team do a deep dive into the P&Ls for restaurant partners, which led the company toward its new dynamic rate structure.
Megan Dahlen, Foodsby's chief revenue officer, said the company is currently investing in its sales team to drive demand for restaurant partners, and advise them on what available changes could improve their economics, including making slight modifications to their delivery radii. Dahlen pointed out that just one additional daily drop could add significant volume and profits in this challenging period for any business focused on office dwellers.
Ware added that as the recovery unfolds, central business districts will "continue to take a backseat to the suburban markets," which has always been Foodsby's primary focus, even as the pandemic led the company to make inroads in multi-unit residential buildings in addition to offices.
Foodsby has exposure in the group meeting space, as well, with its Meetings platform which is akin to typical catering providers. Its new rate structure also covers this side of the business.
Noting that the days of steam tables and big buffets are likely going to remain relics of the past, especially in office settings, Ware said individually packaged meals that can be enjoyed in socially distanced situations will probably remain the mainstream preference going forward.
"I don't think the world is going back; people have opened their eyes and now appreciate the convenience of the delivery from a user perspective … and restaurants, likewise, are permanently shifted" in terms of their off-premises mix," Ware said. "Restaurants are going to get smarter about who they partner with and consumers are going to get smarter about which services they use."
Jake Irey, Foodsby's manager of restaurant strategy, said the company was already examining its rate structure before the pandemic, but added that the crisis sped up the timeline for its changes.
"It made us look at what is a profitable delivery in this new pandemic era," Irey said. "That led us down this road of looking at a dynamic rate scale, so that no matter where you land, these are going to be profitable deliveries."
A franchisee's perspective
Down in the Dallas-Ft. Worth metro, Mark Robbins is a Salata franchisee who owns seven locations, four of which are open and three in development. After experiencing an intense collapse in order volumes during the pandemic's early days, Robbins has remained an enthusiastic Foodsby customer even though office-bound bulk orders have faced a similar decline in volume in recent months.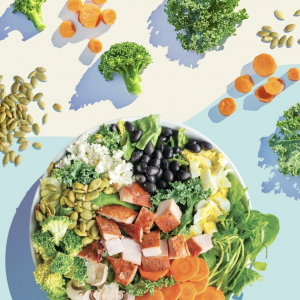 Robbins has a particular enthusiasm for the grassroots marketing benefits of delivering high-end salads to large-scale offices, and he said dedicating staff and his own time to this side of the business continues to drive significant volume as in-store traffic remains depressed.
"I just dedicated staff and my own time into this for years, and it's paid off," he said. "We had two locations that do over 100 meals a day pre-pandemic" through Foodsby. "I did the driving myself for six months."
By doing deliveries himself, along with existing staff, Robbins said that being able to control the last-mile customer experience has also been a major selling point for the service. At one point, he estimated that Foodsby comprised $300,000 to $400,000 in annual revenue for his company, with two locations doing more than 100 orders every weekday.
"It's so cool when you have a restaurant that's busy, and then on top of that you have all of these secondary and tertiary revenue streams," he said, noting that his stores are now averaging around 25 to 30 orders per day through Foodsby.
Asked about the company's new rate structure, Robbins said he was paying lower commissions than average due to being an early operator in the Dallas market. While he expects to pay more for the service in the coming months, he said the new rates are fair and that he still expects it to be a profitable channel, even if the larger orders will now have a larger commission.
"I am going to make less money, but I think it's fair," he added. "Fast-casual restaurants like myself, we all kind of operate in that 20 to 25 [percent] profit margin range, and if you get up in that 20 percent [fee range] you're really pushing that."