Experts from ezCater, Foodsby and DeliverThat joined Ryan Palmer, a restaurant attorney with Lathrop GPM, to discuss where each catering-focused brand is finding optimism as the pandemic continues to depress volume in an important chunk of the North American restaurant business. Held during the virtual Food On Demand Conference, the speakers' message was consistent: Catering is not out of the woods, and individually packaged orders will have a prominent seat at the table no matter how the back side of the COVID-19 crisis unfolds. 
With Palmer adding that none of the panelists expected to have this conversation in the "heat of a global pandemic," DeliverThat CEO Aaron Hoffman said his catering delivery fulfillment company saw its catering volume nosedive 90 to 95 percent in some cases. While the company, founded back in 2013, grew quickly before COVID struck, it has pivoted to grocery and meal kit orders, while revising its driver onboarding strategies to provide an extra measure of safety for diners and restaurants on the platform. 
Minneapolis-based Foodsby, which aggregates catering orders from large-scale office buildings, has engineered its own big pivot by shifting its attention to multi-unit residential buildings to bring a new stream of orders to its restaurant partners enticed by Foodsby's comparatively lower fees without slowing down in-store operations during peak times, like weekday lunch hours. 
Foodsby President Alex Ware said the company's business model enabled that switch to help its restaurant partners continue feeding at-home workers who had used the service in their offices before the pandemic took hold. 
In going after residential buildings in addition to offices, Foodsby is now seeing pockets of promise with employers and building managers looking to enhance productivity, limit unnecessary trips into and out of offices during lunch breaks, and also to reward employees for coming back into their offices. 
"For the building and employer, they are very focused today on productivity as well as safety and making sure there isn't unnecessary traffic in their buildings," Ware added. "It's a hands-off amenity for the building or employer where they have to do nothing to run the service and there are no contracts or obligations they sign up for." 
Whether meals are destined for a high-rise condo tower or sprawling suburban office campus, Foodsby maintains that it can provide restaurant partners with up to a 30-percent increase in lunchtime revenue, which is more predictable than individual third-party orders and typically able to be assembled and delivered before peak times in the restaurant. It's currently in 18 markets, and Ware added that, "if we're not in your city today, we'll be coming there in the next several quarters."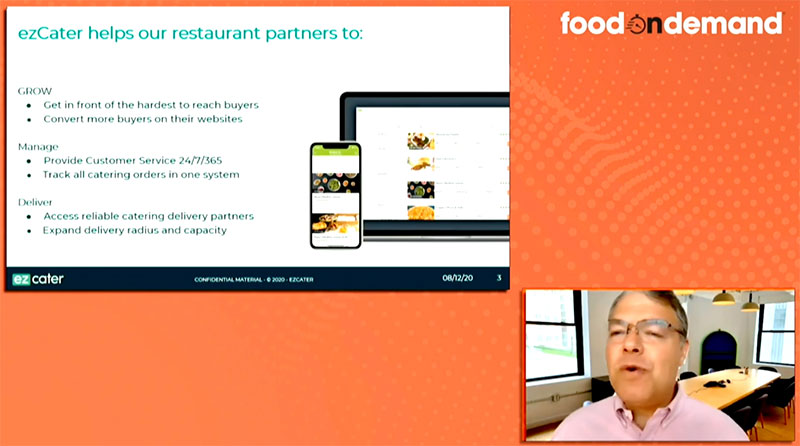 At Boston-based ezCater, which has quickly grown to become the biggest name in workplace catering with a sky-high valuation to match, Chief Marketing Officer David Meiselman outlined a number of unique use cases where the company is seeing new volume, whether that's medical offices, hospitals and government agencies incentivizing employees or rewarding hard-working team members. 
"We're moving from food almost as a perk to food as a need for safety," he said, noting that the company's new Relish offering enables employers to facilitate individual employee orders that can be fully subsidized or require employees to pay their own freight—all intended to reduce risk for employers and individual employees returning back to their typical workplace settings. "There are fewer meetings, but there's more appreciation, if you will." 
As the catering landscape quickly shifted, ezCater has directed restaurant partners to focus on individual packaging for all orders, so end users don't have the concerns of several pairs of hands touching meals from the restaurant and through the journey to their desk. 
DeliverThat's Hoffman seconded that sentiment, saying that whether his team was delivering catering orders for ezCater, Foodsby or brand X, eliminating any unnecessary human interaction and labor was key for the industry going forward.
Meiselman said ezCater is also recommending that restaurants reexamine their catering and off-premises menus to react to the many ways catering demands have changed during 2020. 
Citing a recent, in-house survey, Foodsby's Ware said that 40 percent of its consumers said they were less likely to leave to get lunch than before the pandemic, with nearly a third saying they were less likely to visit the cafeteria in their workplace. More than 50 percent of its respondents said they were more concerned about using shared spaces in their office buildings. Ware said this underscores the ways the industry has changed, and that restaurant operators need to work with "whichever partners you can to give you access to that demand."
Palmer asked the group if they felt the cost of delivering catered meals is shifting, among so many other changes. Ware said Foodsby is piloting the ability for end users to provide gratuities to restaurant partners to recognize their efforts, while Meiselman said it's paying particularly close attention to how employers are changing their stances on subsidizing employee meals, beyond the textbook, historical use cases of employers buying meals for important meetings or other special occasions. 
"It's not just the same old types of folks that you've seen before," he added. "It really is a recognition that bringing people back to the office for some time to come is going to need to not only provide for their safety, but also to provide, as Alex was saying earlier, as an incentive for them to be in the office as people are moving into this more flexible model."
Firing a torpedo in the direction of third-party providers, Ware said that "unprofitable delivery partners in many corners of the industry" have math that is "not sustainable." He suggested that delivery fees for traditional orders, through the likes of DoorDash and Uber Eats, are likely going to become more expensive as the recession naturally limited the number of people financially capable of paying for the luxury of individually delivered meals. 
"Back to the advice department, I would say find partners that you know are going to be sustainable, you know are going to be there through whatever the market throws at us and that are really looking out for your best interest and making sure that they're as disciplined on their fee structure as they can possibly be to make it a viable service and solution for everybody."

Meiselman jumped on that message, saying that with pressures on all aspects of the business, restaurant partners need to be careful to work with partners that provide incremental value and larger, more profitable delivery orders. 
"The catering business right now is a hard business, I'm not going to sugarcoat that," he added. "Even in those cities the past couple of weeks that are seeing surges, we've been seeing consistent demand in a number of the industries, so do whatever you can to help find that demand, work with the partners that can help you do that or do that on your own—there's business to be had."