Taking a page from the Foodsby business model, Boston-based ezCater is launching a new service called Relish that it's billing as a "new way to feed offices of any size" in response to the ongoing pandemic that has decimated the traditional catering market.
In describing the new offering, ezCater says Relish "gives employees safe, convenient access to their choice of meals from a rotating list of local restaurants. Individually packaged meals arrive in a single delivery at a designated place and time, so there is less traffic in and out of the office. Companies cover delivery costs and can choose to subsidize part or all of the meal cost."
Taking a page from Foodsby, another meal service that allows local restaurants to deliver meals to large office buildings in one daily drop, the Relish service is positioned as non-catered catering, meaning that the meals are more for everyday lunch breaks, rather than big company meetings or traveling sales calls.
"Workplace priorities have shifted," said Stefania Mallett, ezCater's co-founder and CEO. "Providing food for work is now much more than a perk. We designed Relish because it's COVID-smart. It gives employees safe access to great food without leaving work to get it. Plus, Relish gives restaurants more of the high-value orders they love from ezCater."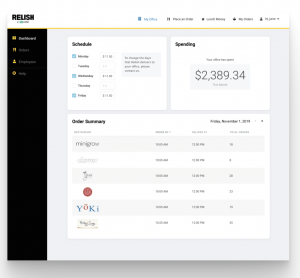 The company is highlighting four key pillars of the Relish offering: safety, speed, control to adjust employee subsidies at any time and pricing that ezCater says is "the same as on the [restaurant's] takeout menu." Customers place orders with their phones and the company is charged $25 for deliveries of any size.
Like Foodsby orders, Relish deliveries will be placed on branded shelves at the destination office, and employees will be notified when the meals have been delivered, so they can pick them up on their own, rather than being individually delivered to offices or cubicles.
The company adds that, with additional frequency, Relish can learn more about the company and its employee-ordering preferences to present better options from its rotating restaurants that are on the platform