As the virtual restaurant category continues growing across the board, Florida-based virtual restaurant provider, The Local Culinary, is planning to expand outside of the United States.
"We saw amazing growth in 2021 thanks to our model," said company founder Alp Franko. "Our model is set up to maximize profitability by cross-utilizing ingredients and leveraging our franchisees' existing restaurant/ghost kitchen equipment. By hosting 50 brands, we can target more customers."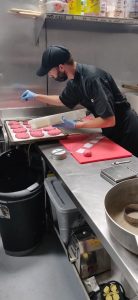 The Local Culinary is present throughout the U.S. and has signed international locations in the UAE and Belgium. According to Franko, he and his team are confident that 2022 will see even more growth.
"We are now in the process of expanding our internal teams, our funding, and our franchise network to accommodate that demand," stated Franko. "We are doing something that is making history, and people—including chefs, business owners, investors, and consumers—are all catching on quickly."
The company is also bringing the model into several new channels, including airports, hotels, and corporate office buildings.
"We were chosen, ultimately, because we've adequately demonstrated that our approach is the right one when compared to other brands out there. Ours is sustainable and these major corporations and airlines see that," he added.
The Local Culinary's franchise support model is different from anything else currently offered in the virtual kitchen marketplace. Franko pointed to that differentiation as part of the company's recent success.
"If chefs and business owners are given a model that allows them to concentrate on what they are best at and everything else is provided for them, then their business has been set up for success. It's that simple," he said.