As ultra-fast grocery delivery scales beyond New York, Chicago and San Francisco, Buyk CEO James Walker hopes this new speed and convenience persuades American shoppers to live like Europeans who typically buy smaller quantities at a time and focus on fresh ingredients they plan to use right away—leading to more pleasant shopping, fresher ingredients and, ultimately, less food waste.
Even though driving your Gallivanter to the Price Club and filling it with hundreds of dollars of food is the American norm, it isn't hard to see a better way than this uniquely New World custom. Referencing time spent living in France years ago, Walker recalled talking with the proprietor of a Parisian grocery store confused by this young man prepared to buy a week's worth of groceries.
"He was basically saying, 'Why would you do this? We'll be here tomorrow. Why would you buy bread today and eat it in three days? If you're going to eat bread on Monday, come on Monday and buy the bread,'" Walker said.
Connecting that memory to the present, Walker suggested that way of living is a major opportunity as the grocery industry faces a delivery-driven revolution that enables a significant change in consumer behavior.
"The high level of convenience that Buyk offers customers in the U.S. allows it just to be part of their every day," he added. "You don't have to plan for it. You can order what you need, you can order what you forgot, and you can order what you're hungry for, and I love that it moves us potentially closer to that European experience where we're shopping with greater frequency in smaller amounts."
Walker, most recently the senior VP of restaurants at Nathan's Famous and, before that, Subway's VP of North America, is a former chef who cares about food waste. He thinks life is better in a world where we're all cooking with fresher ingredients, rather than schlepping home a pandemic's worth of goods every week or two.
Buyk was founded in 2021 by Slava Bocharov and Rodion Shiskov, who Walker credits with developing a playbook and growth strategy that he is fortunate enough to implement, while helping to build a culture as the young brand grows its headcount and moves outside of the largest, densest cities that have been the focus of the instant-grocery category to date.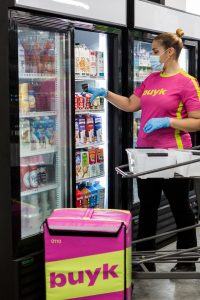 The logic makes sense, as ultra-fast grocery thrives in an ecosystem of dense urban neighborhoods with high-wealth, busy customers willing to pay for the convenience of nearly immediate delivery, compared to other grocery services that often delivery in an hour or two, at best, or within a quoted multi-hour window that Walker said is especially inconvenient for a grocery setting.
"We control the inventory, we control the technology so … if it says we have sugar-free RedBull, you're going to get sugar-free RedBull, and you're going to get it in 15 minutes," he added. "That doesn't have to be a planned purchase. Now, if I'm craving something, if I want to make dinner, if I forget something, Buyk is as easy as turning on a faucet—that's what our founder says, and I believe that's really going to become part of not only how Americans shop, but how they plan their day and how they manage their time."
Asked to detail its growth plans, the CEO said the company is solely focused on the United States—clearly a jab at competitors like Gorillas and Jokr—and said there are a "large number of markets that absolutely can be executed" with the current business model.
Over the next two years, Buyk plans to enter additional urban markets ripe for ultra-fast grocery delivery and he suggested that growth rate will quickly accelerate as the platform tweaks its model to move beyond those textbook-perfect neighborhoods.
"We're looking at scaling across the U.S. at a very rapid pace, but what you're hearing from me on this call is we're also looking to do that with the requisite amount of rigor and focus on making fiscally sound decisions," he said, stressing that profitability will remain at the core of its expansion. "There's money being invested in ultra-fast grocery and certainly we've benefitted from some of that and we'll probably continue to do so."
Looking at recent additions to the Buyk platform, it's clear that private-label products are a critical part of the overall basket. Buyk customers now have access to its in-house breads, gourmet ice creams, smoked salmon, candy and coffee, among others—with more likely coming soon as the CEO stresses Buyk is a provider of products, not a delivery platform for other companies' goods.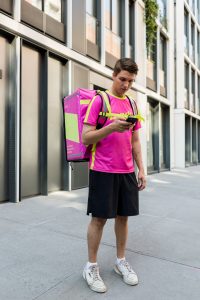 "Part of what Buyk is focused on within that dedication and commitment to profitability is controlling all aspects of the experience," he said. "We are not a delivery service, we are really providing a customer experience, the last mile is part of that, controlling the inventory is part of that, as well."
Like other instant grocers, Buyk is focused on providing "hyper-locality" in its assortment, not just through its own products, but also through partnerships like its recent deal with Pat LaFrieda Meat Purveyors.
Walker added that creating an inclusive, sustainable corporate culture is one of the pillars of his new role as the company's leader. While he's had prior experience working to shift corporate cultures that had been in place for decades, he said the Buyk opportunity is creating something that's "truly unique, is guest focused, is employee focused, is shareholder focused, really from the very beginning."
For employees, that translates into little things that, he hopes, add up to becoming the employer of choice in the category, rather than a good choice among many.
"That's a really high bar," Walker said. "Whether that's ensuring our couriers have the best equipment, meaning the pedal-assist bikes they use, or the best jackets in the winter, the best safety equipment, the pay and benefits that really are best in class, all of that goes into a dedication to making this a great place for people to work."