Like cicadas, the rapid-delivery grocery category has sprung up so quickly you've got to assume it's been here all along, waiting for the ideal time to emerge from the ground. It's easy to picture use cases where near-instant grocery delivery makes sense, but Jokr is one of several companies in the space gearing up to deliver much more than just pasta and parsnips.
The New York-based startup is calling itself the first global platform for instant delivery of everyday products, and groceries are the vehicle for building the fulfillment infrastructure to support high-speed delivery of everything from pharmacy items and phone charges to beach chairs and whatever else you might need at any given moment.
If the company's plans come to fruition, dense, urban areas will soon have a new class of eco-friendly infrastructure that can deliver a host of items more efficiently than the third-party model that relies on car-based drivers connecting customers to restaurants and retail stores that are inherently too spread out to hit efficiency levels instant grocery providers claim is the key to turning a profit.
After announcing its U.S. expansion in New York City this summer, starting with Manhattan below 35th Street and parts of Brooklyn and Queens, the company founded by a team of former Walmart, Uber, Delivery Hero and Foodpanda execs expects to launch in five additional U.S. cities by the end of the year. Jokr has attracted investments from HV Capital, Tiger Global and the biggest kahuna of them all, SoftBank, which is one of the biggest investors behind DoorDash and virtual restaurant provider Nextbite.
Zachary Dennett, Jokr's U.S. co-founder, says building all of this infrastructure, securing real estate within a stone's throw of end users and building a new type of supply chain from the ground up is his style of fun and a natural move after serving as the vice president, general manager of Walmart's grocery division and, before that, vice president of pricing at Jet.com.
"We're solving really interesting retail challenges and we're solving them in innovative ways—that's fun," he said. "We get to build the systems from scratch, we get to build it the way we want, and get to solve the problems in a way that hasn't been done before."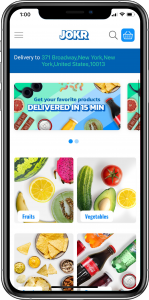 Dennett said the most critical parts of the Jokr secret sauce are carrying the bare minimum number of SKUs to cover what customers need, and then driving a hard bargain with suppliers to negotiate lower prices and ensure those products will always be in stock, avoiding the out-of-stock and poor substitution issues that plague most grocery delivery services.
"Our view is one brand and one size," he added, citing the excessive choices of toilet paper in traditional stores as the perfect example. "Because each of the slots are now more sparse, each of the manufacturers are really eager to get in. Because I could be the only toilet paper on Jokr, [we can negotiate] better prices, it's a virtuous cycle."
Like other rapid grocery services, responding to the local market is also important, as some neighborhoods have certain ethnic preferences or prefer organic produce, as an example. The company's stores are about 2,000 to 2,5000 square feet, and contain anywhere from 2,000 to 2,5000 individual items.
Each of those delivery hubs are refreshed on a daily basis, with a constantly changing product mix based on sales data, customer demand and availability so those hubs gradually but steadily evolve to match the preferences of the individual neighborhood.
Groceries are just the start
Asked what categories the company will branch into, beyond its existing grocery, pharmacy and bodega staples, Dennett said his team is "very much looking into" the next five categories and shared an example from Memorial Day that has impacted the company's thinking. Jokr somewhat randomly added beach chairs, thinking people might need accessories to enjoy the holiday, and they were an immediate hit on the platform. That one-time example proved seasonal items could sell, and it was an opening to explore categories beyond those originally considered before that start-of-summer holiday.
"That might not have been an intuitive product for what you would need in 15 minutes, and during the winter that probably wouldn't be, but Memorial Day? Beginning of summer? Probably pretty good," he added. "So yes, we will absolutely expand into lots of categories."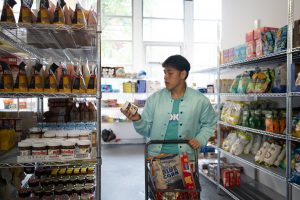 Being able to offer free delivery within 15 minutes means fulfillment centers need to be extremely close to the customers, and saving money on real estate means looking at side streets where he added that neighborhoods are really happy to have us" because the company has moved into several "food deserts" and its e-bike-powered drivers don't generate traffic, emissions or noise for nearby residents.
To profit where national third-party delivery services focused on restaurants have struggled, Dennett said "the real question" is the utilization of riders that comes down to what he called a game of volume and time, where riders quickly go back and forth between customers and the fulfillment centers in short trips that allow them to make many deliveries in a single hour, compared to the more time-consuming restaurant delivery model that's proven costly even at scale.
Thus far, he said the company is hitting a 97 or 98 percent on-time rate, which he called "astronomically high" and better than his direct competitors that he claimed are having operational problems and struggling to reach customers within promised delivery windows.
Outside of the many upstart competitors in the space, Dennett said traditional, established grocers will struggle to ever compete in the rapid delivery space due to their existing warehouse and storefront infrastructure that would make it impossible to pack, let alone deliver, orders within 10- or 15-minute increments.
Originally founded in Germany and then expanded to Mexico City and Lima, Peru, in early 2021, Jokr's next U.S. city will be Boston, with additional European and South American cities in the coming months.
"It's completely clear to me that the market is here, and it's also clear to me that you can't do this model with the mainline infrastructure," Dennett said. "Our general view is, if we deliver on the promise that we have made of 15-minute deliveries, extremely local assortment that's relevant, great on-time performance and best pricing, we don't need to spend a lot of time worrying about the competition. What we need to do is just execute on that and the customers will be happy."