Move over ghost kitchens and virtual restaurants: instant delivery platforms are officially the hottest corner of the delivery space with New York-based startup, Jokr, announcing a $170 million Series A round to grow the grocery and retail delivery provider.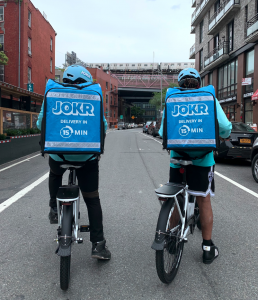 The big-ticket funding round was led by an impressive cohort of investors across the U.S., Europe and Latin America, and is especially notable since Jokr began operations just three months ago. At present, the company operates in "100 delivery hubs globally" according to the company. 
Its latest investors include GGV Capital, Balderton Capital, Activant Capital, Greycroft, Kaszek, Monashees and FJ Labs. Existing investors HV Capital and Tiger Global also doubled down in this latest round. 
As we recently covered, the company calls itself the first global platform for instant delivery of everyday products, and groceries are the vehicle for building the fulfillment infrastructure to support high-speed delivery of everything from pharmacy items and phone chargers to beach chairs and whatever else urban consumers need at a given moment. 
Joker says it will use the capital to fund its continued growth and to expand into additional U.S., Latin American and European Cities. Currently, the company is live in nine cities, with plans to launch in additional cities and countries in the coming weeks. 
"The investment we announced today will empower us to continue our expansion at an unprecedented rate as we continue to build Jokr into the premier platform for a new generation of online shopping, with instant delivery, a focus on local product offerings and more sustainable delivery and supply chains," said Ralf Wenzel, Jokr's founder and CEO. "We are proud to be able to partner with such a distinguished group of international tech investors to help us seize the enormous opportunity in front of us."
Hans Tung, managing partner at GGV Capital and a newly appointed member of Jokr's board said, "Ralph has put together an all-star team for food delivery that will transform the retail supply chain. The combination of food delivery experience and the sophisticated data capabilities that optimizes inventory allocation and dispatch set Jokr apart. We look forward to working with the team on their mission to make retail more instant, more democratic and more sustainable." 
Since beginning operations, Jokr says it has opened "roughly one hub per day in an ever-expanding list of cities" including New York City, São Paulo, Mexico City, Bogota, Lima, Warsaw and Vienna. The company added that it is "addressing a global market of more than $8 trillion in the grocery and retail space, of which only about 3 percent is currently online."