As pandemic restrictions lift and people gather in greater numbers, Uber Eats is relaunching its Group Ordering with new features that allow friends, family and coworkers to split the bill and make it easier for hosts to herd hungry cats to submit their orders and pay for their portion of the meal in advance.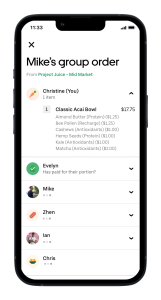 Designed to make ordering restaurant delivery easier at home, when gathering with friends or when ordering lunch or for special occasions in workplace settings, Uber's new features mirror fare-splitting features that have long been available in the ride-sharing industry.
Acknowledging that customers "don't always like the financial responsibility of footing the bill," Uber said this feature is the "first-time ever on a US delivery app" and will make it easy for event hosts to select a restaurant, invite others to join the order and decide whether to pay for everyone or split up the bill.
Once the host has created a group order, they can set a checkout deadline that works best for their crew. Those deadlines can be set up to seven days in advance, giving everyone plenty of time to submit their orders. According to Uber, hosts can "set it and forget it" with auto-checkouts at the deadline or choose to place the order manually when the deadline expires.
Automatic reminders allow those hosts to let Google remind members of the party to submit their orders on time, which seems especially relevant in workplace settings, but also applies in off-the-clock situations, too.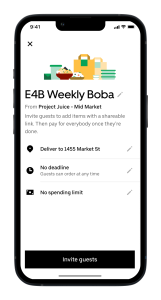 Just like ghost kitchens and food halls are prioritizing the ability for customers to order from multiple restaurants on one ticket, third-party delivery services are still working to reduce friction from customers, eliminate issues that might lead to a veto from somebody in a group, while also making steady inroads into the corporate lunch and special occasion environment, giving ezCater, Foodsby and Sharebite a run for their money.
"With the combination of these new features, getting together over great food has never been easier," the company said in an announcement about the features. "Create a group order, invite friends, then sit back and let us manage the details. All of the food for the group will arrive at the same time, so you can enjoy your meals together."