Seven years after it began franchising, The Halal Guys is closing on 100 worldwide locations as it anticipates opening 30 to 40 new units over the next five years. With a product that's well suited to delivery and carryout, the New York-based brand is continuing testing inside three ghost kitchens and is exploring new drive-thru locations as new and existing franchisees look to capitalize on vacant restaurant spaces now on the market.
Ahmed Abouelenein, The Halal Guys CEO since 2009, said the company is now seeing a higher level of interest from prospective franchisees than it did in the months before the pandemic. As it works to maintain its careful selection process, the company sees a huge opportunity to accelerate its growth rate as an abundance of second-generation restaurant spaces have become available after so many restaurant closures during the past 14 months.
Like most restaurant brands, The Halal Guys' sales took a significant hit during the late-winter and early-spring months of 2020. The company quickly saw its sales begin to recover, which Abouelenein partially credited to investments in delivery and off-premises technology, contracts and in-store operations that began well before COVID became an everyday term.
"Before the pandemic hit, we secured … master agreements with all the bigger, major third-party providers like Uber Eats, Grubhub, Postmates and DoorDash," he said. "We were already in the process of implementing an integration system for our orders to go directly into our point-of-sale to make life easier for our employees … and as of today, the process is almost 95 percent complete."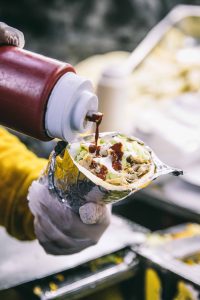 With locations now in approximately 17 states, he added that the company is working toward opening a Halal Guys in every remaining state and said it has a "long ways to go" on the international side with locations now open in South Korea, Indonesia, the U.K. and Canada—with upcoming locations coming soon in Calgary and Vancouver.
The brand was one of the first to open inside Kitchen United's original ghost kitchen facility in Pasadena, California, as well as inside a DoorDash Kitchens ghost facility in Northern California. The company also owns its own delivery-only location in Long Island City, New York, and Abouelenein said the company will continue testing ghost kitchens for the foreseeable future.
Right after in-store sales crashed in New York City, which was the first pandemic epicenter in the U.S., the brand quickly saw its ghost kitchen sales jump anywhere from 20 to 40 percent. In April of 2020 alone, sales at its Long Island City ghost kitchen nearly doubled.
Looking ahead, the CEO said the company would likely open additional ghost kitchen locations, and he said they would likely be used to target dense, urban areas where it's a challenge to secure traditional restaurant locations.
"This way you bring brand awareness in these areas until you find a good brick-and-mortar location where the customer can walk in and dine in your location," he said. "It's not our main model, our main model is brick-and-mortar locations and that's what we'll continue doing."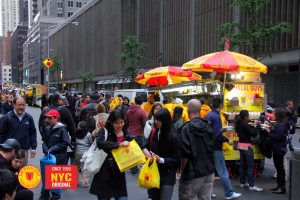 Abouelenein said the company has considered exporting its products via virtual restaurants, but said its concerns about ingredient sourcing and access to the product has led the company to keep its focus on traditional restaurants, its existing street carts within its home city and ghost kitchens in big cities.
For traditional restaurants, the company was already revamping its restaurant designs before the pandemic, but has continued tweaking that template to include delivery stations, separating delivery drivers from customers picking up their orders, along with adding drive-thru options for franchisees who are able to secure such coveted locations.
At present, The Halal Guys has only one drive-thru location open, in Chicago, but the company is starting to approve additional drive-thrus, "because that's where the business is going," Abouelenein said.
The company is anxious to open its fully constructed unit inside Washington, D.C.'s Union Station. That now-mothballed location is ready to open, but because the station is still largely empty, its opening date has been pushed back indefinitely. According to recent reporting from The Washington Post, passenger traffic at the country's ninth-busiest transportation hub is still down 92 percent from pre-pandemic numbers.
With two years of ghost kitchen experience under its belt, the Halal Guys executive team has learned the importance of marketing a location that doesn't have public-facing real estate and signage, meaning that marketing is everything to build awareness and maintain customer interest.
They need "a lot of marketing to let your customers know that you're there, that with just the click of a button they can either place an order and go pick it up or get it delivered to their location, so that's one of the biggest challenges we saw even before the pandemic," he said. Abouelenein added that, for smaller, mom-and-pop restaurants without large-scale brand recognition, marketing a delivery-only ghost kitchen location could end up being an unlimited expense that could ultimately cost more "than you're going to spend in your day to day."
Even with all of the work the company has done on its off-premises program before and during the pandemic, the company is continuing to tweak its delivery packaging, in-store operations and completing that delivery integration process that will make daily life easier for its employees.
"2021 is here, and we'll continue to develop the business and continue to make our systems more aggressive to handle the demand for delivery," Abouelenein said. "We're preparing our franchisees for that reopening, increasing the staffing, increasing their products and being ready for, hopefully, a better year than 2020 for sure."