MrBeast Burger has proven to be one of the most interesting virtual restaurant operations out there. The YouTuber-turned-burger-mogul exploded onto the scene and shook up the food business world in late 2020, but Food On Demand wanted to finally experience the hype first hand.
Five Midwestern burger aficionados huddled around the DoorDash app and found one location just down the road from FOD HQ. It was, however, at an intersection you probably wouldn't bring your mom. Were we about to get a YouTube burger from a strip club? Let's find out!
We opted for pickup because we had to see who was cooking this food. The address was close, but clearly the business at the exact address listed was getting more than a couple DoorDash drivers knocking. A sign simply said, "Looking for Food? Around the corner in the parking lot."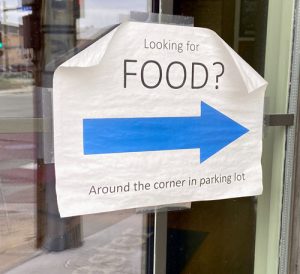 Around the corner, there was a not-so-welcoming site: eight-foot chain link fence and a lot of asphalt. It wasn't a lot for any building, just a big empty lot with a single unmarked entrance. It looked like a nice place to get stabbed, not get burgers.
In that vast and awkward-to-access lot was just one thing: a big blue shipping container wafting the delicious smell of fries. Reef had installed its ghost kitchen there, tucked at one end of the lot right behind another business. Not exactly eye-catching, but the employee said the majority of food was going out via delivery.
The cook also said he was cooking for five concepts out of the same super-efficient kitchen, MrBeast and Wow Bao among them with another concept coming soon. He said the multiple concepts certainly kept him and his fellow chef busy.
The pile of fries, four burgers and a chicken sandwich came to $71, plus tip. It was no small snack, but we obviously had to try both versions of Beast Fries. Individually, each sandwich ran between $6.99 and $8.99 for a triple-patty Beast Style burger.
The food was properly packaged with a tamper-evident sealed and, overall, a decent presentation. Our items weren't individually labeled, but after a quick game of "where's my burger" it was all sorted out and the absurdly rich Beast Fries were divvied up.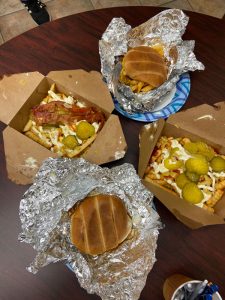 Starting with the fries, they were good crinkle cut fries. They were still crispy and passably warm after a 10-minute drive, but the Beast Fries were not. They were smothered in all manner of sauces, topped with pickles and bacon too. While they weren't crispy, they were absurdly delicious. The mix of spicy mustard, some kind of aioli, melty cheese and pickles on top looked like it was devised by a violently stoned college student, but it was so, so good. The burgers were well made, saucy, cheesy and the roughly diced onions added a nice crunch.
In all, it was a pleasant experience with the odd address being the only issue. As more ghost kitchens pop up in random parking lots or hard-to-find places, the delivery platforms need to work better with non-traditional outlets instead simply listing the nearest address. That's especially true as the lunch crowd comes back and the pickup channel continues to grow.