Taking a page from Goldbelly, the marketplace sending gourmet food across the country, Uber has launched a nationwide shipping program to get consumers across the country whatever they're craving, whether it comes from NYC, Miami or LA, with more cities coming soon.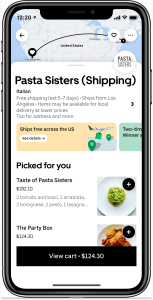 Through a few taps—just below "Your Favorites" inside the apps, the nationwide shipping program bills itself as gourmet eats shipped for free to all U.S. states except Alaska and Hawaii. It's the latest, and potentially most significant diversification into the retail side of the restaurant business, and another mile marker on Uber's quest to capture a bigger slice of the shipping and freight markets.
Inside my own Uber Eats account, options range from Wafels & Dinges in our Twin Cities home metro, Juice Press from Queens, Sergio's from Miami, Sarge's Deli from New York, and Stirred, Not Shaken from Woodland, California, among a total of 15 options listed in the app.
As more restaurants and retailers realize the potential of national shipping through Uber, it's likely that many more options will proliferate—especially as additional cities come online to the nationwide shipping program.
Items are shipped through FedEx, and customers are given a tracking number to monitor delivery progress.
On Goldbelly, items like gourmet breads from Zingerman's in Ann Arbor, Michigan, and pork sandwiches from Tommy DiNic's in Philadelphia have become fixtures, partially removing the cuisine barriers of moving across the country for expats.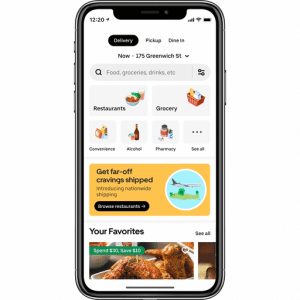 "Over the last few years (especially during two years of lockdowns with decreased travel), consumers have shared their desire to bring specialty food items straight to their home," Uber said in a press release announcement. "But this isn't just something consumers have asked for. We've heard loud and clear merchants' desire to diversify their offerings and reach new consumers."
To place a nationwide shipping order, click the "Nationwide shipping" tile, select the merchant you want to order from, add items to your cart, review your order and then checkout—basically the same process as ordering a meal for delivery.