Clover, the restaurant point-of-sale and software provider owned by Fiserv Inc., announced the release of the new Clover Kitchen Display that aims to provide a real-time look at tickets and key metrics for kitchen staff.
Clover says its new KDS provides seamless order fulfillment and claims to eliminate lost orders while increasing efficiency for restaurants.
Unified kitchen management capabilities are in high demand across the industry as more customers have returned to in-person dining while delivery volumes remain strong.
With Clover's new system, orders fire directly to the tablet-based device, consolidating all order channels in a single place.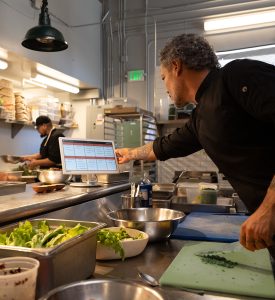 "With the continued rise of in-person dining and the growing demand for online ordering, it's never been more critical for restaurants to have seamless systems in place to manage orders," said Krystle Mobayeni, founder of BentoBox and head of restaurant solutions at Fiserv. "We're committed to developing all-in-one solutions like the Kitchen Display System to streamline processes and bring a new level of efficiency to thousands of restaurants across the country, helping modernize their operations and create exceptional experiences for diners and staff."
Combined with BentoBox's marketing and commerce platform, the parent company says this integration of capabilities helps restaurants diversify revenue streams, increase operational efficiency and transform the diner experience across brick-and-mortar and digital interactions.
That point of view also tracks with consolidation trends across the restaurant tech space, as a growing chorus of restaurant operators bemoan the increased number of technology providers required in today's omnichannel environment.
To equip restaurants with key performance metrics, which are essential for improving customer service and increasing revenue, the Kitchen Display System includes multi-level fulfillment, item-level routing and color-coded order status. Through metrics like prep time and fulfillment tracking, insights from the system can help restaurant operators monitor the team's performance and adjust processes accordingly despite volume swings.
To address the challenges of noisy kitchens, it incorporates bi-directional speakers that emit alerts at 85 decibels, ensuring clear audibility even in loud environments. Constructed from temperature-resistant aluminum, it also claims to have the highest heat tolerance in the industry at 122°F to ensure durability and reliability in demanding kitchen environments.