As restaurants prepare for a second winter season of the pandemic, BentoBox Chief Marketing Officer Darcy Kurtz said the company is focused on helping restaurants find new ways to generate revenue. That includes helping restaurants plan ahead, while encouraging customers to book catering, private events and large pre-orders ahead of time—all especially critical during a widespread labor shortage.
Speaking with Food On Demand before the announcement of the company's recent acquisition by Clover parent Fiserv, Kurtz said more than half of restaurant catering revenue happens during the fourth fiscal quarter, which dovetails well with the company's recent launch of its pre-ordering and catering product that's ready to go just as customers have begun pre-holiday bookings.
"A diner can do their pre-ordering fully [and] automatically online, they don't have to call and talk about contracts or anything like that," she said. "We know doing these things make an operation much more efficient during this time of year."
To complement that new pre-ordering feature, BentoBox is also highlighting its marketing tools, which give restaurants the ability to let customers know about holiday-specific plans, which can drive them to pre-order turkeys or plan ahead for special occasions, which can all help restaurants plan their stocking and staffing with as much notice as possible.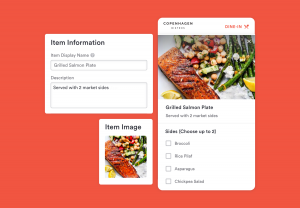 "With supply chain issues in the system, to have line of sight a week or two in advance to what orders are going to be, so you can plan for that, is super helpful," she added. "Whenever we are talking to our restaurants, we definitely talk about more than one avenue—one email is not enough."
That repetition and frequency in automated customer communication is also designed to limit how much staff time is required to keep those messages going out the door during the busiest time of the year.
After a year and a half of constant media coverage highlighting the rise of delivery, off-premises channels and the struggles of restaurant operators because of the pandemic, Kurtz added that the company's restaurant partners are finding additional success moving customers to native ordering channels due to greater awareness.
Even though there isn't a silver bullet to change the economics of delivery, Kurtz said that heightened customer awareness, combined with automated tools and planning ahead to blunt the impacts of supply chain and staffing issues, combine to make a huge impact on a restaurant's bottom line—especially during the most challenging season of the year.
"They have been trained over the last year that it's in the restaurant's best interest to go direct," she said. "So the more you keep in touch with your diners and let them know you have online ordering … is just a great way to do it because consumers are getting much smarter about the difference between the two."