Target is diving deeper into online groceries with news that the Minneapolis-based retailer is bringing its fresh grocery pickup service national after successful pilots in the Twin Cities and Kansas City markets. Starting last week, Target's expanded in-store order pickup and drive-up services are now available at an additional 400 stores in the Midwest, with a goal of reaching more than 1,500 stores by Christmas.
The assortment now includes 750 items across produce, dairy, bakery, meat and frozen categories, in addition to the more than 250,000 items already available for pickup through Target's many other product verticals. Orders will be ready for pickup within a few hours, and the retailer touts that its Drive Up service is completely contactless, with most orders reaching cars two minutes after arriving in the pickup lane.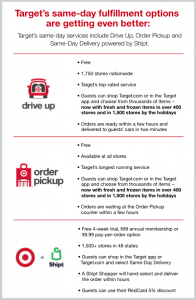 Through its subsidiary Shipt, Target also offers delivery service at more than 1,500 stores in 48 states where orders can be home-delivered within hours. The service costs $9.99 per order or can be rolled into a $99 annual membership.
Target's moves in the delivery and grocery space are closely watched, especially as the pandemic has dramatically shifted grocery ordering behavior with a huge increase in online grocery volume. According to a new story from Brick Meets Click and Mercatus, online grocery sales have grown more than 24 percent to a record setting $6.6 billion, compared to the previous record of $5.3 billion in April.
The survey notes that this growth is driven by an 18 percent increase in the total number of orders in the past 30 days, with 73.5 million in May versus 62.5 million in April, along with higher spending—$90 in May versus $85 in April.
Click here for the full survey results.