It's a throwback to the earliest days of delivery: what if restaurants banded together and created their own delivery service to avoid the costs of third-party delivery apps? After a few ups and downs, LoCo Co-Ops is doing exactly that in markets across the country, with plans to enter Chicago in the coming months.
Founded in Cedar Rapids, Iowa, LoCo is the creation of Jon Sewell, a former hospital administrator turned D.P. Dough franchisee who saw a parallel between restaurant delivery and his previous experience putting together mutually beneficial deals between parties that often had reasons to distrust each other.
While banding local hospitals together to collectively shoulder the price of a costly MRI unit isn't a natural parallel to restaurant delivery, Sewell vehemently believes cooperatives are the only means to successfully compete with national delivery apps backed by millions of dollars of investor capital.
LoCo's non-traditional roots predate its official founding in 2020 by three years. Its latest iteration reflects common high-growth missteps that included franchising, which led to eventually exiting some markets controlled by undercapitalized backers. As the company rebuilds its business in Las Vegas, its largest market to date, LoCo's principals are taking a more measured approach to growth as it prepares to enter Chicago's massive metropolitan area.
"This model has been very successful and continues to be successful," Sewell said. "It's been able to drive down the effective commission cost to well under 10 percent to restaurants that are on the platform."
Because its independent contractor drivers can earn as much as $20/hour, and the company seeks to treat its drivers better than larger delivery providers, LoCo isn't facing a driver crunch—and actually has a waiting list for drivers anxious to join the platform. That wait list allows the company to follow a strict "one offense and you're gone" policy, with Sewell adding that "we don't put up with bullshit."
It's currently exploring ways to formally include drivers in the cooperative, which would allow them to share in the financial benefits which, at present, only go to member restaurants that funded LoCo's entrance into specific markets.
As the pandemic slides further into the background and some municipal delivery fee caps are lifted, the restaurant-owned delivery co-op sees an even greater need for commission relief as consumers continue relying on delivery even as dine-in traffic returns to pre-pandemic levels.
"It transcends the pandemic," Sewell added. "It's more of a solution to the venture capital-backed tech extraction model they've developed that just pumps all this money back to Silicon Valley or Chicago or Amazon's headquarters."
Pushing back against tech 'extraction' 
Referring to himself a "masochist" for undertaking the challenges of building standalone delivery cooperatives across the country, Sewell said his first version of the model grew so quickly in the college town of Iowa City that it was clear restaurants were willing to pay startup costs to funnel as many orders through the co-op. Excess profits were returned to those shareholding restaurants, with lower returns given to those still working with other third-party delivery providers.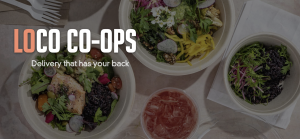 Grubhub's 2017 purchase of the OrderUp delivery platform was a watershed moment in LoCo's history, as Sewell explained that reduced competition in some Iowa markets. He added that "restaurants in town had gotten to the point where 40 or 50 percent of their revenue streams were now going through Grubhub, and they just saw their commissions double. This is not unlike what a whole bunch of restaurants faced in the pandemic…when they went from maybe 30 percent delivery sales at 30 percent commission to 70 or 80 percent of their sales were delivery at 30 percent commission."
As that played out in Iowa City, the local chamber of commerce put out a call for action, asking if anyone had ideas to offer relief to restaurants struggling with the costs of delivery services. This was the beginning of LoCo's predecessor, Chomp, which was formed in 2017 after 20 restaurant owners pooled cash together to start their own delivery service. It quickly grew to more than 35 participating restaurants by January of the next year—and more than 140 by the end of 2018.
The next variant unfolded in a handful of cities on Colorado's Front Range, under the name of Nosh, which found similar support from the fast-growing area's restaurant community. Those cities, including Ft. Collins, Greeley and Loveland, showed that its market share was higher with professionals and young families, rather than college students, which resulted in bigger tabs and better driver tips.
LoCo has no connection to its Chomp and Nosh predecessors, but those first two companies are now delivering more than 300,000 orders per year, showing the potential of the delivery co-op model.
"It became kind of apparent to us that, while there was value in what we were doing before the pandemic, this co-op model was probably going to be exponentially more popular after the pandemic," Sewell said, stating that restaurant operators his team worked with "hated" the impact third-party delivery services had on their bottom lines.
At this point, now LoCo's third iteration, LoCo's base commission varies between 15 and 20 percent, but excess profits are returned to restaurants, which he said lowers that "effective" commission rate down to 10 percent in mature markets—a third of the commission typically attributed to independent restaurants on the national delivery apps.
In addition to Las Vegas, its current operating markets are Knoxville, Tennessee, Richmond, Virginia, and Tampa Bay, Florida. As the company prepares to enter Chicago, by far its most ambitious expansion, it is planning an eight-phase introduction in a largely Hispanic neighborhood, letting restaurant operators and customers know "we're not cherry-picking the affluent Chicago population."
With a population just below 9.5 million, Chicago is the third-largest U.S. metro area behind Los Angeles and Dallas-Fort Worth. Sewell said LoCo is working with local aldermen and purchasing organizations, such as the Greek American Purchasing Cooperative, to get a foot in the door with Chicagoland restaurants.
As the investor climate shifts in the restaurant tech community, among others, Sewell predicts that the big delivery platforms will "become the next Theranos or WeWork" due to his belief that they aren't benefiting shareholders or the restaurants that depend on them.
"I look at them from the viewpoint of an old guy who's seen a bunch of business trends come and go over the years," he said. "I think those guys will be as relevant in two to four years as Groupon is today and Groupon was like, what an ingenious scheme…but they screwed their essential business partners."
As he sees a lot of restaurants resigning themselves to the costs of traditional delivery services, Sewell returns to his belief that restaurants working together for their benefit is the only way to shift the balance of power back to operators.
"Tech has come in and extracted so much out of communities, and unless these communities develop some means of working together, they're just going to go away," he added. "The solutions that Grubhub, DoorDash and Uber have are not solutions for independent restaurants. They're great solutions for McDonald's and Chick-fil-A, even though those guys are moving away from it, as I predicted."