Turning around a big ship is a timeworn metaphor. In the restaurant technology space, NCR is the $6 billion giant trying to gracefully maneuver through the Suez while younger, more nimble competitors slip past on whitecaps of investor enthusiasm. After losing its "intimacy" with customers in recent years, NCR, the largest point-of-sale provider, says it has regained that customer-centric focus and is positioned to outcompete the Toasts, Lightspeeds and Squares of the global POS armada.
The Atlanta-based company is coming out of a rebuilding period after a tornado destroyed its Global Fulfillment Center just as the pandemic started to upend its retail and restaurant categories at the start of 2020. While those were two very different problems to tackle—one tangible and one largely invisible—NCR was also grappling with a cultural shift to reconnect with its customers and invest in leading-edge technology as the restaurant industry underwent huge changes driven by the rise of delivery and off-premises operations.
"It was a challenging year, but I don't have a weak stomach," said Dirk Izzo, president and GM of NCR's Hospitality division. "I love the challenge to try to take care of customers and fix problems that exist out there."
Izzo wasn't lying about enjoying challenging straits, as he was direct about the company's missteps in recent years, especially in terms of how customers have been treated in aggregate.
"We lost that intimacy of 1:1 conversations with our customers and just people owning that problem for the customer, versus passing it around," he said. "The cultural shift we've made is really one of you own it, you are the advocate for the customer and you own that—don't bring any sort of departmental mess that we have internally to the customer. We have one point to that customer and you need to help solve any issues that they might have."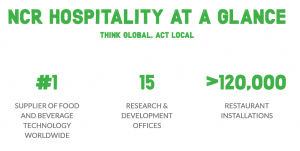 Honing that new philosophy included countless conversations with clients, polling its customer base and the creation of what Izzo calls "customer pods" where small teams of dedicated employees work with specific NCR clients, rather than any number of its 30,000+ employees around the world.
It is part of a top-to-bottom reorganization of the company, which is ongoing, and which Izzo said is resulting in a big uptick of customer satisfaction scores and previous customers coming back into the fold.
While customer service undoubtedly matters in anything related to hospitality, technology is equally critical, especially as restaurants now face the sea changes previously faced by other industries.
Izzo said bringing NCR's hospitality platform up to grade has involved many efforts at the same time, including giving customers the flexibility to choose their own functionality options like any of us do when setting up a new smartphone, which he added is part of its new restaurants-as-a-service point of view.
Looking at other industries and other regions of the world, he said it's likely that those same handheld devices we all carry will have a bigger part of the front-of-the-house experience in restaurants, as voice technology and cloud services replace the in-store kiosks that any server in recent decades is familiar with.
"We probably won't see point-of-sale devices out there at the same level that we do today," he said. "I think it will be driven a lot by personal devices, our own personal devices, which we saw evolving in China a few years ago before the pandemic. I think just the way customers interact with a restaurant is going to shift going forward."
Expounding on that point, Izzo said that POS in its current form will change and that the industry will "likely see less terminals and more devices to take a payment. The orientation will change from a person taking an order to more of a self-service model. Also, POS/payments will end up running in the cloud or in the back of the house."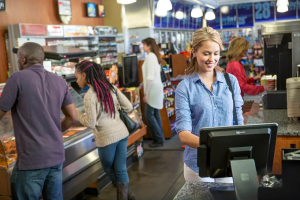 Just how some of those broader innovations show themselves depends on the type of restaurant we're talking about. In a table-service format, he said that means a wider adoption of mobile pay and the use of QR codes at tables, which help restaurants turn tables faster and reduce labor burdens.
In fast-casual or quick-service settings, NCR's innovations are especially trained on speeding throughput and driving efficiency as speed of service is the key as dining rooms are either shuttered or capacity restricted due to pandemic regulations or just falling out of favor as pickup and delivery continue grabbing a larger share of order volumes.
"In quick service…you're going to see the elimination of dining halls," Izzo said. "You'll see [more] drive-thru, you'll see more pickup stalls, you'll see pickup lockers for people that want to stop and pick up food on their way home. I think you'll see a lot of delivery out there, as well. We have a whole practice looking at that, specifically, and helping customers rethink the new format of a restaurant in the future."
A mile-marker in my own reporting, he said NCR also made investments to allow restaurants to take cryptocurrency as a form of payment in the near future. In early August, the company announced an agreement to acquire LibertyX, a cryptocurrency software provider. That will allow NCR to offer LibertyX capabilities as part of its solution for banks, retailers and restaurants, and Izzo said that's something both customers and clients have requested and will keep its offering at the leading edge of technology.
Crowded waters
While NCR remains the largest POS player in the restaurant space, it has faced more competition at the lower end of the spectrum, primarily among independently owned restaurants. Izzo said the company's primary focus among this cohort is "multi-site" operators that "might have 10-20 sites today and they're going to franchise and blow it out."
NCR's bread and butter remains larger-scale, multi-unit restaurant groups that are more sophisticated and "cannot use the systems out there like Square and Toast," Izzo said.
"We're a global company," he added. "We have 30,000 people out there that can service them and be there in a matter of hours to fix anything if it's going down, and that's our biggest advantage versus all those other competitors."
Even though he's forthright about the company's past challenges and remaining obstacles, a world with fewer point-of-sale devices, more competition and less customers eating inside actual restaurants can still be smooth sailing as long as the company makes the right moves during this period of dramatic industry-wide changes.
Of course, that includes fending off would-be over-takers as they appear on the horizon.
"When you're a leader in a market—any market out there—people hold you up and say, 'Oh, you're a leader, they can't react quickly.' It's been the case across companies for many years," Izzo said. "Before I took this job on, we were not nimble, but by shifting the culture like we have over the past 18 months to be really nimble, we're able to react very quickly to innovations in the marketplace…to the needs of our customers individually, so while that characteristic was true three years ago, I don't think that's true today."