About 18 months ago, Brinker International had something like 50 delivery partners across its 1,600-plus Chili's and Maggiano's locations, didn't want to sign an exclusive deal with a third-party delivery service and didn't even believe in the incrementality of delivery.
That's how Toby Espinosa, VP of business development at DoorDash, remembered it as he recounted the first meeting between the two companies "in a conference room that the sun has never seen" at DoorDash's San Francisco office. Despite that inauspicious start, the groups emerged from that meeting with a shared vision, said Espinosa.
"That digital and off-premises was going to be a driver of sales in the restaurant industry for the next five, 10, 15 years," he said. "We also believed that the full-serve, casual-dining restaurant in Tulsa, Oklahoma, would be able to utilize digital as much or more than their peer set of fast-casual or QSR chains in major metros."
In a conversation on day one of the Food On Demand Conference, Espinosa and Steve Provost, Brinker's chief concept officer, discussed since that initial meeting, how they've cultivated a partnership—both Chili's and Maggiano's have exclusive delivery deals with DoorDash—that's driving off-premises sales for the restaurants.
"We feel pretty good. At a time when most sit-down restaurants are wondering whether they'll survive, we're thinking about thriving like we haven't in years," said Provost as he referenced a chart detailing Brinker's growth in digital sales, from $140 million in fiscal 2018 to $567 million in fiscal 2020. (Brinker's fiscal year ends in June.)
That's more than 300 percent growth, noted Provost, with the DoorDash partnership officially starting just over a year ago.
"And I'll remind people, we're a bar-and-grill chain, Chili's, that people don't think of a lot naturally as a great e-commerce and digital player," he added.
The reinvention of Chili's as a digital and tech-forward brand started before that first meeting with DoorDash, noted Provost, as the company made the decision to go after where dining occasion growth was going. It began buying back restaurants from its franchisees—the system is now 41 percent franchised—"invested a ton of money in tech and we transformed how we market our businesses."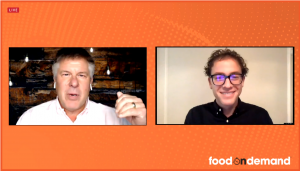 "We believe you have to own your restaurants in casual dining in order to excel at multi-channel e-commerce," said Provost, because "investing in tech is expensive and there's a lot of highly leveraged franchisees out there."
Early on in the partnership, DoorDash, which Espinosa said makes a point of operating at an intense level of detail, focused on point-of-sale integration so "operators will not have to understand the difference between a pickup ticket, in-dining ticket or a delivery ticket."
That level of detail extends to the KPIs, or key performance indicators, which are also operational in nature, said Espinosa, and include things such as Dasher wait times, missing and incorrect items, and point-of-sale cancelations.
"If you focus on operations, that is a leading indicator of the sales to come," he said.
As Espinosa predicted, digital sales are proving particularly lucrative for Chili's restaurants located just outside major metros.
"You were dead right that delivery was just about to really take off in the suburbs, where more than half of Americans live and where more than half of our restaurants are," said Provost. "Places like Alpharetta, Georgia; Plano, Texas; Irvine, California—that's where the real money is to be made, in my opinion."
Many restaurant operators are still questioning the incrementality of delivery orders, and rightly so, continued Provost. But for Brinker, at least "these sales through third-party delivery are shockingly and sustainingly incremental."
Brinker had actually forced into its contract with DoorDash a provision that every six months the company would undertake an elaborate credit-card longitudinal study to analyze sales data, but it's never even been talked about, said Provost, because "from day one it was clear: These were new guests who'd never used us before, with much lower barriers to trial than in the brick-and-mortar world, and these were new occasions and increased frequency."
Brinker's restaurants are "channel agnostic," noted Provost, meaning orders aren't prioritized differently based on where they come from but rather handled as they come in. Managers are incentivized to grow sales as a whole, with bonuses not specifically based on increases related to delivery, something Provost said helps keep the focus on the overall guest experience.