New York City ghost kitchen startup, Hungry House, has debuted its Season 3 offering that includes a collaboration between viral TikTok-er and entrepreneur, Melissa Ben-Ishay, and Bowery, a leading U.S. smart vertical farming company.
As co-founder and CEO of Baked by Melissa, Melissa Ben-Ishay is known for her variety of handcrafted bite-size cupcakes. But in her everyday life, her food philosophy is simple: if you get your nourishment from mealtime, you can indulge in dessert every day. Her delicious, nourishing recipes, like the Green Goddess Salad, have inspired millions on social media, and followers can now get these recipes delivered as real dishes through her partnership with Hungry House.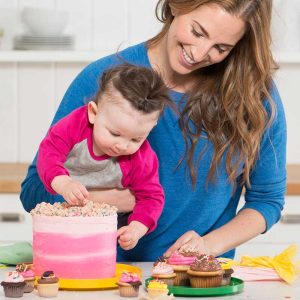 "Creating delicious meals and treats for others is my love language," said Ben-Ishay, "I'm thrilled to partner with Hungry House and Bowery Farming to share my favorite salads exactly as they were intended with the best possible ingredients. The best salads give you a perfect bite every time (just like our Baked by Melissa bite-size cupcakes!), each with a bit of crunch and a burst of flavor from the dressing. With hearty fillings, finely chopped veggies, and mouthwatering homemade dressings, these three salads reflect how I eat in my daily life—I hope you love them as much as I do."
With Hungry House's focus on supply chain and sourcing high-quality ingredients, the partnership was brought together with delicious lettuce and herbs from Bowery. Melissa believes that using the freshest ingredients possible, such as the zero-pesticide, wildly flavorful, sustainably-grown greens from Bowery Farming, result in the best meals.
Highlighting the quality and flavors of the greens and herbs from Bowery, the menu features an updated twist on the Green Goddess salad, paired with housemade tortilla chips and Bowery's sweet, yet bold basil adding a depth to this Baked by Melissa original viral master salad; Crispy Leaf Crunch, using Bowery's new-and-improved version of iceberg lettuce, Crispy Leaf, as the base; and a new creation exclusively for this partnership, The Bowery Grain Bowl, highlighting Bowery Baby Kale paired with quinoa and an assortment of delicious roasted vegetables.
Hungry House and the Baked by Melissa teams are uniquely able to showcase Bowery's flavorful, pesticide-free lettuce and herbs. Bowery has continued to expand distribution across the Northeast and Mid-Atlantic regions, now in over 1,100 retail locations, and customers can try Bowery greens in the new line of salads available at Hungry House.
"We are committed to increasing access to fresh, flavorful produce through our network of smart farms—one of the many solutions needed to secure food for our future and fight the global climate crisis in this country." said Frank Renwick, VP of Marketing at Bowery. "We are proud to partner with TikTok's Salad Queen, Melissa Ben-Ishay of Baked by Melissa, and the Hungry House team, to bring more awareness to the benefits of our delicious, sustainable, pesticide-free, indoor grown produce."
This partnership builds on the success of Season 02, during which Hungry House saw sales double on launch day.
"We believe in the power of our distinctive ghost kitchen model to bring to life creative partnerships for the next generation of food creators and chef-influencers who inspire millions online," a Hungry House spokesperson said. "We're thrilled to have Melissa on our platform showcasing the incredible products from Bowery."
Season 03 also debuts new dishes from chefs Woldy Reyes of Woldy Kusina and chef Tony Ortiz of Chile Con Miel.
Hungry House also launched a new kitchen location in partnership with Nimbus Kitchens, founded by Camilla Opperman, in the Lower East Side.
"We're thrilled to partner with Hungry House by providing them with turn-key kitchen infrastructure and community event spaces for their Season 03 launch," says Opperman. Hungry House is doing an exclusive takeover of the FOH, enabling customers across NYC to visit to order pickup, or order delivery available from the Financial District up to Gramercy. "We're particularly excited that Hungry House is taking over our front-of-house and transforming it to a consumer-facing space, which will increase transparency and ultimately help transform the way ghost kitchens are perceived.