While it might seem a bit counterproductive for restaurant operators to ask for even more guest feedback, given all the vitriol on Google and TripAdvisor listings, hearing whether guests are happy with their meals is even more important and elusive now that so many orders are leaving restaurants via customer takeout or third-party delivery drivers.
Ovation is helping restaurants gather real-time guest feedback that can go as far as addressing customer complaints before they're finished eating—all in an effort to avoid the major reputation hits when angry customers blast restaurants with flaming-hot negative reviews.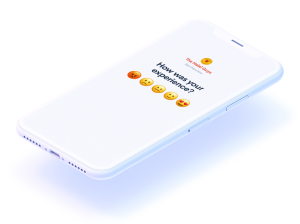 Founded in 2018 in Salt Lake City, Ovation incentivizes customers to use simple tools to rate their experience, leave positive reviews and share their contact information with restaurants, which enables everything from direct-to-consumer marketing and loyalty programs to turn happy—or happy enough—customers into loyal customers going forward.
According to its own research, Ovation customers get to three times fewer one-star reviews and five to 10 times more positive reviews, which it claims often leads to revenue gains as high as 10 percent in best-case scenarios — regardless of whether the customer is on the couch or in the restaurant's dining room.
Founder and CEO Zack Oates, who is enthusiastic enough to picture happily going from table to table on his own, is also the son of a former NFL player who got into the restaurant business after retiring. Seeing those guest surveys printed on receipts always felt like something out of the Stone Age, and he equated that sometimes awkward experience of leaving not-so-positive advice on a receipt to telling somebody that they're a bad kisser to their face.
"It's an uncomfortable question when you're in the moment," Oates said of the idea. "It was bugging me, so I finally got together with a team, we built a prototype, launched that in 2017 and in 2018 we came on board full time and we've been rocking ever since."
Rocking, in this instance, means helping restaurants improve their dine-in and to-go operations, getting out in front of negative customer experience and also gathering that customer data that is often out of reach for restaurants that work with third-party service providers.
Having traveled to nearly 50 countries around the world, Oates said he's seen how so many businesses live and die based on Google, Yelp and TripAdvisor reviews. He shared a story where a negative situation with a "professional eater" led to a plethora of nasty reviews. Needless to say, the restaurant was out of business a few months later. It's an experience familiar to anyone attending a restaurant seminar or conference any time in the 2000s as online reviews became the modern day holy grail or Grim Reaper, depending on the quality of the experience.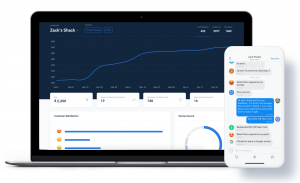 Acknowledging that people want to feel heard or vindicated after paying for a meal that didn't meet expectations, Ovation is intended to pay for itself, not just by avoiding some negative reviews, but also helping restaurants take that feedback and improve their operations and customer service at a higher level.
With so much of the restaurant industry moving offline and out of sight during 2020, Oates said Ovation can also help with mistakes that happen to off-premises orders that a restaurant might never find out about.
"Let's say something goes wrong with your order, you're missing an item with an Olo order, are you going to take the time to call them to complain or are you probably just going to go to Yelp or Google and post a one-star review?" he asked. "We've created tools that make it easier than even posting a review to give your feedback directly to the restaurant and, the nice thing is, we're getting food feedback," which he said often tends to be much more positive when customers had a direct, instantaneous line of communication with the restaurant—scary as that might sound.
The company sees itself not as competition to Yelp or TripAdvisor, but as a partner to those platforms or an intermediary standing between the review sites and the businesses looking to preserve their online reputation.
Done through SMS messaging in most cases, the platform can work quickly enough to address a customer whose table is out of napkins, which could be especially helpful for diners who are more comfortable detailing an experience on their phones rather than speaking to a server or calling the restaurant for off-premises orders.
Ovation's experience has shown that offering the chance to win a $100 gift card is enough to spur customers to participate, but a small enough value to feel like winning is a realistic possibility. At one Domino's location using Ovation, that incentive was enough to go from five or six pieces of feedback a week to more than 50, which Oates said was "a total game changer for them—and we actually brought them from a 3.8 to a 4.0 in just a few months on Google."
For restaurants spinning up native ordering channels, those same customers can be given a link to redeem a free meal or other spiff that takes them to a native ordering site, which can be even more valuable than positive reviews in terms of reducing delivery commissions over the long term. Bag stuffers or stickers added into off-premises orders can achieve the same goal in non-digital channels.
"There's about 14 different ways that you can enter the system based on your style of restaurant, what technologies you're using, so we integrate where there's customer data and will have these different survey pickup points where they can just chat with guests through QR codes or phone numbers," Oates said.
Those integrations include Olo, Lunchbox, Bbot and Revel Systems, among others. Stressing that restaurants can benefit from service providers that "play with each other," he added that Ovation is interested in integrating with additional providers, whether that's reservation platforms or other new-age restaurant technologies.
Saying that "anyone that's holding that data hostage is doing a grave disservice" to restaurants, Oates said encouraging open integrations allows restaurants to get more benefits from all of their recent investments in new technology.
Ovation is a monthly subscription for restaurants based on the number of locations and features that they want, starting at $99 per month. Adding in additional functionality can raise that to $199 per month, with discounts for each additional location added to the platform.
"We're looking to always improve the marketing ability to drive that revenue," Oates said. "We can say, hey, this isn't a cost center because you're saving this many customers, but when you see the money coming into the till it makes a lot more sense."