Before publishing his second long-form article on the future of restaurants and delivery, Thanx CEO Zach Goldstein had become one of the most visible thought leaders in the space. One year after his "The Four Horsemen of the Delivery Apocalypse" lit up industry LinkedIn pages, Goldstein's latest manifesto calls for further regulation of third-party delivery brands centered on data sharing and immediate financial relief for all of the restaurants trying to survive a monumentally challenging winter season.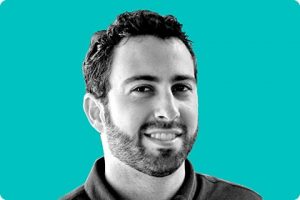 Goldstein's latest article, published on Medium, begins with all of the people who have asked if he hates third-party delivery companies given his strong words on the subject. "In short: no, absolutely not," he wrote, adding that he was legitimately fearful the trajectory of third-party delivery could "eradicate restaurants as we know them."
While business at Thanx, a CRM and customer engagement platform, has been overwhelming as the COVID-19 pandemic continues, Goldstein says that even if a vaccine was available today, it wouldn't eliminate the risk for restaurants doing everything they can to survive these winter months that so many hope are the pandemic's last gasp.
Noting his displeasure with national restaurant associations lobbying the federal government, which still hasn't announced plans for a second wave of wholesale restaurant relief, Goldstein said restaurants feel "hung out to dry" and said a more effective tactic might be convincing local governments to join the right to preserve the positive cultural and financial externalities of the restaurant industry.
"The good news is there's a precedent for that," Goldstein said of local governments, which he said could negotiate with national delivery providers to limit or avoid fee caps by agreeing to share data with their restaurant merchants. "That is a staple of the relationship between online travel agencies and hotels and airlines where that data is shared out of necessity."
With vast sums of money flowing into the technology and ghost/virtual kitchen side of the restaurant space, Goldstein said many of these dollars are "not necessarily flowing into the net benefit of restaurants as they exist today." Instead, he argues, Wall Street money is flowing into the players in the industry specifically looking to disrupt existing restaurants, rather than on preserving them.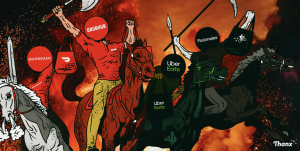 Playing these trends out to what he sees as a natural conclusion, Goldstein said well capitalized ghost kitchen and virtual restaurant platforms are a dangerous trend for independent restaurants, which could never wrangle the financial reserves of institutionally backed players, like Ordermark's Nextbite virtual restaurant platform that recently received a nine-figure investment from SoftBank's Vision Fund.
To back up this claim, he pointed to the latest Chipotle earnings call where, even though same-store sales rose in the middle of a pandemic, its stock price plummeted after the call on profitability that didn't meet analyst expectations, directly attributed to the margin impact of third-party delivery.
"We're going to see massive consolidation in the restaurant industry, because it's the only way they're going to be able to raise the capital to fight back," he added. "Restaurants need to get more heft in order to fight back."
If local, state and federal representatives can agree that the restaurant industry provides intangible public benefits, beyond payroll and supply chain, then he said they need to back that sentiment up with direct financial stimulus. Without that, he said Congress would be "dangerously tempting the fate of the entire industry that we need."
"Done right, the economic benefit of giving up that data would make that a reasonable option," Goldstein said, adding that long-term regulation is also not a viable solution, as "the markets will just adjust around it, and it will cease to be effective."
From his company's direct experience working with restaurants to improve their digital relationship with customers, its CEO argued that data sharing in the travel industry is a near-perfect model for regulation that could give restaurants data from their own customers, which is often kept close to the vest by third-party delivery brands like DoorDash and Grubhub, among others.
He also believes that, with so much of delivery's true cost masked from consumers, that the federal government may also have a role in bringing transparency to delivery fees and other costs, which many restaurant operators say have directly impacted their ability to turn a profit in a world where takeout and delivery quickly became the lion's share of revenue for many operators.
"They're making a land grab right now trying to win control of the customer at a negative profit margin, because they'll make it up over the long term," Goldstein added. "The hidden message there is at the expanse of restaurants."
While his latest long-form article touches on what he sees as misconceptions in the industry, including major business publications, Goldstein closes with morality in an industry where smaller operators are consistently losing out to large, investor-fueled operations.
"Restaurants give so much to their communities—as first jobs for those just getting started, as attractive career paths for those who can't afford post-secondary education but are willing to work their asses off," he wrote. "While local governments can play the much-needed white knight in giving restaurants a fighting chance and technology can help restaurants embrace their digital future, villain-izing the 3PDs is not productive, nor my intent. They are here to stay and [are] good for the economy, diners, and the food industry in the long-run; consumers want food delivered and to consume it off-premises more broadly."