After publishing "Delivering the Digital Restaurant: Your Roadmap to the Future of Food" in 2021, co-authors Meredith Sandland and Carl Orsbourn have released the highly anticipated sequel, titled "Delivering the Digital Restaurant: The Path to Digital Maturity."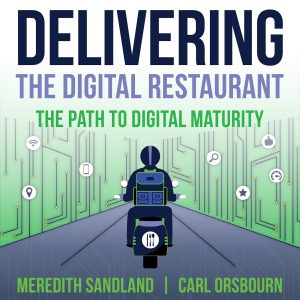 On sale now, the follow-up to the top-selling original talks about maximizing sales on third-party marketplaces, getting customers to order directly, how to choose a virtual brand or ghost kitchen, and the likely future restaurant and technology winners in the space.
"Delivering The Digital Restaurant: The Path to Digital Maturity" expands on the framework laid by the previous book and helps restaurants take concrete steps to implement their digital future.
"With the pandemic moving further and further behind us, now is the time to take full advantage of the tools readily available and move to the forefront of the digital restaurant revolution," said Orsbourn. "Our mission is to help independent restaurateurs navigate the digital disruption."
Says Sandland, "After the worldwide success of our first book, our readers were asking for more and this new book answers the most common questions we received.
Alongside interviews and insight from industry and technology leaders, Sandland and Orsbourn give restaurateurs and operators a how-to guide on making these visions a reality. Readers receive expert knowledge on how to maximize third-party marketplace sales, drive first-party direct-ordering conversion, get the most out of the data digital ordering creates, expand a restaurant's capacity—then make the most of that capacity, use ghost kitchens and virtual brands, and disrupt the very idea of a restaurant with software, automation and digital guest relationships.
Since the publication of their first book, Sandland and Orsbourn have landed high-profile jobs in the industry. Sandland is now the CEO of Empower Delivery, a software company enabling restaurants to profitably and sustainably serve off-premises demand. Click HERE to check out an in-depth interview with Sandland and ClusterTruck founder Chris Baggott on Empower Delivery.
Orsbourn is now the chief operating officer of Juicer, a startup supporting the development of dynamic pricing capability for restaurants.
Sandland and Orsbourn both serve as advisors and board members at several food-service and tech start-ups. They have been recognized as Power Players by Nations Restaurant News and Business Insider for their thought leadership in supporting restaurants to adapt to the challenges and opportunities offered through digitization, technology, and automation.
Check out the latest episode of the Food On Demand Podcast HERE featuring Sandland and Orsbourn talking about the genesis of their new book.