At the beginning of the pandemic, one of the first non-tech solutions Del Taco came up with was using traffic cones to speed up the drive-thru. They already had outside order-takers at some locations, so they were able to scale that quickly, plus they were set up with contactless payments and a mobile app that customers could use to order ahead.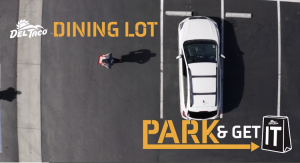 But when Tim Hackbardt and his team at Del Taco realized a good percentage of customers eat their drive-thru food in the restaurant parking lot, it sparked an idea: If that behavior is happening already—and has been since before the pandemic—why not try out dining lot service? And thus, the Mexican QSR franchise launched its "Park & Get It" program.
"Let's turn our parking lots into dining lots. Especially today, with phones and laptops, let's take (cars) out of the drive-thru and open up more capacity," said Hackbardt, Del Taco's chief marketing officer. With around 600 units, the brand launched the program in 12 corporate test-market locations in February. Hackbardt presented the brand's Park & Get It concept during the fourth session of Food On Demand's Building Your Off-Premises Tech Stack event in March.
Other panel speakers included Mike Wills, CEO of Apex Supply Chain—the company behind Little Caesar's Pizza Portal—and Alan Paul, head of strategy and ROI at CardFree, a digital ordering and payments company for foodservice operators with lots of innovation around QR code menus.
"It's funny, when I first got into mobile payments and commerce 11 years ago, QR codes were a joke and going away and NFC (near-field communication payments) was the future," Paul said. "Today, everyone has come back to QR codes."
Apex, meanwhile, recently licensed the intellectual property for digital cubbies, which enables foodservice operators to deploy an easy-to-use, frictionless and secure method to hand off orders to customers.
"How they do it, in essence, is accurately matching the order as it comes in digitally to the kitchen itself with the customer via a QR code, so now we've completed the circle," Wills said.
As the digital order comes into the kitchen operation center, the platform identifies it and determines it should be delivered to the foodservice locker. The customer then receives an email or text message when the food is ready with a unique, highly secure QR code they use when they enter the premises. Cubbies can be outside the building or cut into the wall, the most efficient of which flow food directly from the back of the kitchen into the locker, enabling a driver or customer to walk back to their cars in a matter of seconds.
"It allows that food service operator to really manage their traffic flow, so they can designate certain orders like off-premises orders to a certain pickup location and maybe have end-user customers come in a different way and enjoy a different level of service," Wills said. "Really, it's about dialing in on how the brand wants to extend this level of service to their clients in their customer base."
Paul added there are still quite a few brands not yet at that level that are trying to upgrade their technology and systems to improve efficiencies. Many restaurants added curbside pickup during COVID-19, some integrating location services in their apps so as soon as a customer arrives, staff members are notified to bring the food out.
"For us, text-to-pay has probably been one of the most popular products both from virtual adoption as well as a customer adoption standpoint," Paul said.
It's mostly used when a guest calls in to place an order "very manual," Paul added, and the staff member rings it up on the POS system. Instead of taking a credit card over the phone or waiting for the guest to hand one over when they get on premises, staff members punch the guest's number into the POS and CardFree sends a text to the customer with a link to their bill, which when tapped, pulls up all their items plus a tip line if applicable. Customers can use Apple Pay, Google Pay, gift card, credit or debit, and then tap the "I'm here" button when they arrive.
"That cuts out a lot of friction for the customer and for the restaurant," Paul said. "We have one client that has a full-time employee that has dedicated a third to a half of their time just taking calls when people arrive onsite to pick up food, so that can help out with some labor costs."
Click here to view the rest of this conversation, as well as additional panels that are part of the Building Your Off-Premises Tech Stack event.