Monthly online grocery sales hit a new high this May, topping out at $7.1 billion in the U.S., which is 1.7 percent higher than a year ago. This comes as inflation impacts consumers across the globe, as oil prices and food costs have garnered headlines for significant price increases.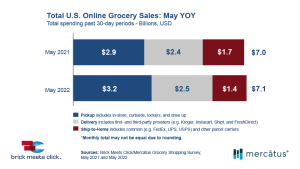 "Inflation is motivating many customers to adapt where and how they shop online for groceries," said Brick Meets Click/Mercatus in its latest Grocery Shopping Survey conducted May 28-29, 2022. "Beneath the top-line results, it's evident that as price inflation erodes purchasing power, consumers are increasingly focused on finding ways to pay no more than necessary when shopping online."
Diving into the data, which examined total spending over a 30-day period, $3.2 billion of the total spending came from pickup orders that include in-store, curbside, lockers and drive-up grocery orders. Coming in second, at $254 billion, were delivery orders including first- and third-party providers, whether that's a traditional grocer or delivery provider like Instacart, Shipt and FreshDirect. Ship-to-home orders, routed through FedEx, UPS and other parcel carriers, comprised $1.4 billion of the total, the only category that declined over the previous year.
"Less than one-quarter of online grocery customers who shop with grocery or mass online use both pickup and delivery services, so the increased cost consideration within this group may actually drive more demand toward pickup," said David Bishop, partner at Brick Meets Click.  "Interestingly, for grocery customers, the importance of 'getting the products you want' has dropped from the top consideration to the bottom when ranked against the elements of cost and convenience, and this holds true for both pickup and delivery services."
The report included additional findings, including that pickup orders rose 9 percent versus the previous year. Delivery, with a dollar share of 36 percent of the total, climbed a more modest 5 percent compared to the previous year, with slight gains in average order volumes.
In addition, responses suggested that gains in total dollar amounts are a reflection of shoppers ordering fewer items per order—presumably due to inflation—rather than increases in order frequency.
More findings from the study are available at Brick Meets Click.