Fresh off a recent $65 million funding round, Belgium-based Deliverect is moving into the North American hospitality market with expectations that delivery volumes still have significant growth ahead, partially fueled by the explosion of ghost kitchens and virtual restaurants.
Not even four years old, the European delivery-to-POS integrator is using its new capital to continue scaling its team that's grown to more than 250 employees working to serve more than 12,000 restaurants in 30 markets, including what it calls a dominant presence international markets with mega clients including KFC, Taco Bell, Burger King, Chipotle and Jollibee.
Its software and hardware products are aimed at restaurants of all types and sizes, enabling them to manage and grow their online ordering volumes, integrate those online orders to existing point-of-sale systems, and eliminate the need for restaurant staff to monitor multiple devices and manually reenter orders, with the claimed benefits of reduced staff time and an 80 percent cut in order mistakes.
"The growth of this space is still in its infancy" Deliverect CEO and co-founder Zhong Xu said of his optimism about the global delivery market in the coming years. "Although it has accelerated throughout the pandemic, I think the trends we saw are still growing rapidly."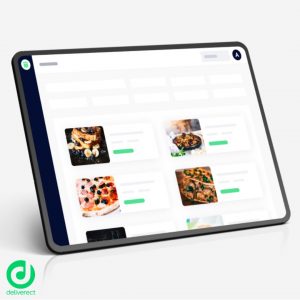 Outside of its headquarters in Ghent in northwestern Belgium, Deliverect has teams in London, Madrid, Toronto and New York, with recent expansions into Dubai, Paris, Edinburgh, Mexico City and The Netherlands. Since its start in September of 2018, the company has processed more than $1 billion in orders, with the expectation for another surge as it pushes deeper into the U.S. and Canada.
With the company's metrics showing daily oscillations in the international restaurant scene, Xu said he still expects the "pure delivery market" to grow an additional 30 percent between now and 2030, stressing "there's a lot of growth left, it's only the start."
As restaurants move deeper into consumer packaged goods and ultra-fast delivery, like what's happening in the instant grocery category, Xu said those two trends suggest delivery volumes will continue expanding even as consumers resume social activities and pre-COVID dining habits.
"You do see some restaurants doing 10 percent less in delivery volumes than pre-pandemic when they reopen, but the reason behind it is actually not that there was less demand for delivery, it's just because they cannot handle the load of walk-ins, dine-ins and delivery—and that's where we definitely can help."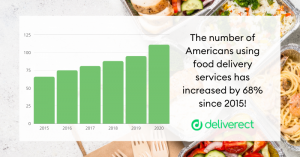 Deliverect's recent experience is showing some restaurants using the pandemic's waning days as an excuse to shift their attention away from delivery and back to the dining room, but Xu said the latest volume numbers from ghost kitchens and virtual restaurants underscore that customer interest is not declining inside either of those segments.
While he expects that the foodservice industry is still far from a saturation point in both ghost kitchens and virtual restaurants, he predicts a coming shakeout "after a year or so" when some of the vaporware VR upstarts will be eclipsed by those who are "really experienced at it, the restaurateurs and creatives."
For brick-and-mortar brands, Xu expects larger-scale fast-casual and QSR restaurants to continue their aggressive push into the off-premises realm since the dine-in experience in those categories is traditionally "not a wow" compared to fine dining at the opposite end of the spectrum. He speculated that could include some of the largest brands in those categories creating their own ghost kitchen spaces, while smaller, growth-minded brands could form partnerships to use outside brands as host kitchens, like we recently reported with Red Robin and Donatos Pizza.
Sizing up his own competitive landscape, Xu said Deliverect is not an online ordering company or a point-of-sale company—even though that could be confusing for anyone visiting their website and reading that the company "integrates all of your online orders." The nuance, he said, is that his company is building the backbone of on-demand food, which includes operations, menu management, stock management and the API integration that's the foundation of competitors from Chowly to Checkmate.
By allowing restaurants to start selling their products on more online channels, Xu claims that restaurants on Deliverect see their total revenue increase by an average of 25 percent within six months on the platform. Just reducing errors, as every provider in the space also promises, Xu said that can also drive efficiency and save restaurants significant money on recurring refunds.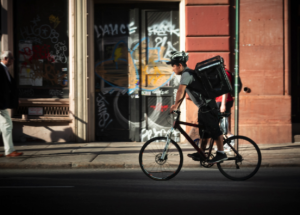 As he expands his focus toward North America from Europe, Xu sees the online ordering scene in both continents moving in the same direction, albeit on "really different" timelines. Whatever the geography, he expects the future of hospitality to be centered on customers being able to order delivery anywhere and at any time.
"It's decoupling the order from the delivery and … in five years, I'm very curious how many places you can order food," whether that's Google Home, Alexa, or even a smart fridge," he said. "Connectivity is going to be the key part for restaurants to adapt and survive this offline-to-online transition, and that's really the mission of Deliverect, to power not only enterprise but also these long-tail SMBs to make them successful, because we all want to live in a world where your local creative chef around the corner is still thriving."