Flybuy, a restaurant technology provider of optimized curbside, drive-thru, in-store and delivery driver pickup, is now integrated on the Toast point-of-sale platform with a goal of creating a "flawless" pickup program for customers and restaurant staff.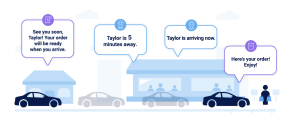 The new integration will give restaurant brands on the cloud-based Toast system an accurate ETA to predict the arrival time of incoming off-premises customers. According to Flybuy, this will enable restaurant staff to perfectly time the order preparation and handoff.
In addition, the integration allows Toast online ordering customers to opt-in to a seamless, location-based customer and delivery driver pickup solution. Brands will use the Flybuy Staff Dashboard to track all incoming Toast online pickup orders based on true customer ETA, location and arrival events, so staff can meet their customers at the counter or curb for a swift handoff, immediately upon arrival.
"Toast online ordering and Flybuy Pickup have provided us with a best-in-class off-premise ordering and customer pickup experience for our small business," says Jessie Kileen, founder and co-CEO of Grassburger. "Because our staff know exactly where the customer is in the journey to the store and when they arrive, we can prioritize and prepare orders for immediate handoff upon customer arrival, dramatically streamlining our staff operations and improving freshness and quality of product to the end customer."
"We are excited to grow our partnership with Toast to provide restaurants with an innovative, yet easy, pickup solution," says Radius Networks Chief Strategy Officer Dan Estrada.