DoorDash, the largest U.S.-based third-party delivery provider, confirmed it has begun a pilot allowing customers to reserve tables for in-person dining. The company declined to offer any details, but the functionality currently is operational in three of the largest American cities.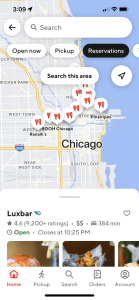 This story was first reported by Expedite, an online restaurant technology blog, which documented the new functionality arriving in New York City. A quick search of DoorDash showed "Reservations" as one of the primary categories on the top bar of the app in a handful of cities.
At press time, restaurant reservations were also available in Miami and Chicago, but not Los Angeles, San Francisco or Houston.
"DoorDash knows that a one-size-fits-all solution to supporting the growth of restaurant partners across the country is not a viable option," a company spokesperson said. "To evolve alongside merchant needs, we're constantly testing innovations to identify new opportunities for partners to grow, in turn enhancing how consumers interact with their business. We're evaluating the results of this pilot, and don't have anything more to share at this time."
Clicking "Reserve a Table" allows DoorDash users to select party size and a preferred date and time, like any other online restaurant reservation platform.
Adding reservations to the delivery apps has been predicted for years, and adds another valuable service for restaurants and customers on the platform. Given the potential goodwill benefits from restaurant operators, it's a reasonably safe bet this service quickly expands to other top U.S. restaurant markets.