It may have been the aroma of pizza that lured a crowd of curious bystanders to the PizzaForno booth, or maybe it was the automated pizza oven baking pies at rapid speed.
One of 299 exhibitors at the annual Restaurant Finance & Development Conference in Las Vegas, PizzaForno demonstrated its vending machine technology that with the tap of a digital screen produces freshly baked artisanal pizza in about three minutes. Available 24/7, the model lets customers choose from a selection of unique toppings, pay with a credit card and wait for the 12-inch boxed pizza to emerge from the slot.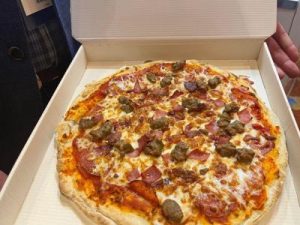 Co-founders Les Tomlin and Will Moyer were inspired by French company SAS Adial, which introduced the interactive pizzeria technology in France 14 years ago. The entrepreneurs purchased the rights to bring the technology to North America, launching in Canada four years ago and in the United States earlier this year.
When customers order one of eight pie varieties, the pizzas are moved robotically from refrigeration into the convection oven and baked. Customers can also select take-and-bake pizzas to cook at home. Toppings range from traditional pepperoni to specialty choices such as honey and goat cheese. Each unit can hold 70 premade 12-inch pizzas.
"People are blown away whether it's a consumer or an operator," said Tomlin of feedback received. The start-up cost per unit ranges from $145,000 to $155,000.
PizzaForno touts its ability to alleviate challenges faced by traditional brick-and-mortar restaurants. As the restaurant industry continues to face labor shortages, "the fact it requires no labor, it's available 24/7 and only needs 65 to 80 square feet to operate at a super low-cost model are huge benefits from a licensing perspective," Tomlin said.
When asked how they market to those weary of robotic tech food solutions, he said the number one challenge is convincing consumers that it is a safe option. Every unit is equipped with fail-safe technology to prevent the sale of products that don't meet quality standards.
"If the refrigerator temperature is above food-safe handling, it will lock the machine and not sell a pizza. If there is an issue with the oven, the machine will lock and not sell a pizza," Tomlin said. "It's all digitally enabled, so the operator knows in real time by looking at their phone what's going on in that unit."
The automated ovens are at various locations including hospitals, near bar areas and convenience stores. Tomlin said one of their most popular spots is college campuses, especially between the hours of midnight to 4 a.m. The recent closing of a PizzaForno in Ann Arbor, Michigan, home to the University of Michigan, however, shows there's still more to learn about the market potential for automated pizza makers.
Tim Epko and Adam Page, who opened the first PizzaForno in the U.S. when they brought a kiosk to Jackson, Michigan, in early 2021, decided to shut down the Ann Arbor unit after less than six months. In a statement to local news station WDIV-TV they said they plan to relocate PizzaForno, "taking into account rent cost, customer buying patterns, competition and proximity to foot traffic."
PizzaForno has 51 operating locations and more than 100 additional units committed in the U.S., with the first 15 U.S. locations open in Michigan, Texas and Louisiana. Other automated pizza companies are likewise looking to expand in the U.S. and abroad. Robotic pizzeria Piestro announced an agreement last year with 800 Degrees Pizza and is starting a test with sandwich franchise Capriotti's, while the largest Domino's franchisee outside the U.S., Australia-based Domino's Pizza Enterprises, is testing automated pizza assembly technology from Picnic Works, starting in Berlin.