Billing itself as a virtual food hall that delivers, Unfurl Cuisine is a 3-unit operation in the increasingly murky area between ghost kitchens and food halls. Unfurl builds kitchens with spaces for up to 20 brands in one location where its own employees cook the food, and it's trying to avoid becoming a "real estate play" as it prepares to scale beyond its home state of California.
With a background including the automotive industry and an extended stay in Siberia, where he started and grew a large, multi-unit coffee chain, Unfurl Cuisine co-founder and co-CEO Chris Tara-Browne speaks the vernacular of a Bay Area startup. In talking about its goals of not becoming a real estate play and avoiding the operational headaches inherent in ghost kitchens, he talks about becoming the Netflix of the food industry, building tech integration from click to fork, giving its in-house chefs a "piece of the action," and providing a way for restaurateurs to scale without investing years of effort to grow their brands beyond humble roots.
"It's almost like the hard way is the right way sometimes," he said of building its own virtual restaurants, pairing them with "local hero" restaurant brands, and investing significant resources into training its own staff, so outside restaurant partners can feel comfortable outsourcing their brands, quality and cooking to an outside team.
It's an idea that's loosely similar to what DoorDash has done with its DoorDash Kitchens—but with dine-in spaces added to the mix, as well as Local Kitchens, which is also based in the Bay Area.
At present, Unfurl has3 food halls up and running in three different formats, 2,000-, 3,000- and 4,000-square foot facilities that can accommodate anywhere from 10 to 20 brands, all operating out of a central kitchen space, rather than individually rented bays like a standard ghost kitchen. All are located in or close to the Bay Area, in San Francisco, San Mateo and Hayward.
Referring back to its early days, sitting around a WeWork conference table looking at what the restaurant and delivery industries still needed, Tara-Browne said they settled on a collective space that served both business-to-business and direct-to-consumer audiences, while also providing an opportunity for independent operators and growth-minded chains to augment its stable of in-house concepts.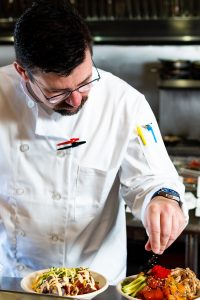 "Until we get to Star Trek replicators—and even after we have Star Trek replicators—we're going to have to have people who make the food, and we said we're going to be a chef-driven vertical up to the delivery…and we're not going to create the laboratory rat menus you might get from other companies."
Not shy about throwing shade at competitors, he said Unfurl's leadership team specifically wanted to avoid the real estate and operational challenges that are inherent to Kitchen United and CloudKitchens.
"We train our people and make sure we do it right, so it's not somebody else coming in there and doing it and then saying, 'Where's the tomato paste? I had it on the shelf, blah blah blah.'" he said. "All this craziness, and you have to separate work spaces, it's a whole nightmare, so God bless them, let Kitchen United do that, so God bless them, let CloudKitchens do that—that's just not the way to go."
Referencing the management book, "Reinventing Organizations," Unfurl refers to itself as a "teal" business that thinks of the organization as a living organism, prioritizes worker autonomy and brings the entire organization into the decision-making process. That has translated into a profit-sharing model for chefs and all-team strategy meetings once a location achieves profitability.
Unfurl's current tech stack enables customers to order from multiple concepts on one check, and it's currently working on a more advanced cloud-based interface that includes menu management, allergens and other nuances that are becoming commonplace in other food halls and shared kitchens.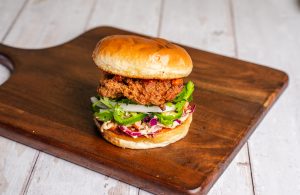 Laughing about the challenges and chaos that happen in any traditional restaurant kitchen, Tara-Browne said using one in-house team to cook multiple brands requires more effort on Unfurl's side of the equation, but is the company's chosen path to streamline operations and ensure that training is unified across the kitchen crew, rather than dependent upon a rotating staff sourced by individual tenants.
Unfurl sees its ideal incoming partners as restaurant operators in a "Goldilocks" zone where they have at least 1,000 social likes or reviews, a certain level of internal sophistication, but also aren't so big that territories wouldn't overlap as Unfurl grows beyond the Bay Area to Los Angeles, and then foodie hubs like Denver and Austin, Texas. The company is planning its expansion through a mix of corporate stores and licensed locations. Incoming restaurant partners receive a commission that ranges from 5 to 7 percent, with a longer-term goal of bringing that number down or "kicking back some of our marketing spend."
Tara-Browne calls its offering "your best retirement program for your IP" for outside restaurant operators who might view Unfurl as a new option when considering expansion or even succession planning.
"We love people who don't have the aspiration to build out a full, giant operations infrastructure, people that go, 'I've done my thing, please take my brand and spread it,'" he said. "We have such amazing, unleashed creative energy in the food industry in this country."